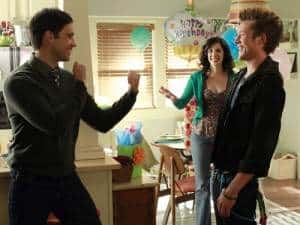 In a lot of ways, Jane by Design is an 80s movie transplanted into the year 2012. I mean, let's be real; the concept is Don't Tell Mom the Babysitter's Dead by way of Ugly Betty (and, to a lesser extent, The Devil Wears Prada) and the first half of the first season was as light, fluffy, and innocent as you'd expect from a show like this. Jane may have faced challenges and expectations from her new role at Donovan Decker, but it seemed that she always managed to pull out a victory or come up with a miraculous idea to save an account right before the credits would (theoretically) roll. Cue a wistful, topical pop song about surviving the challenge laying before you and never giving up and boom, movie from 1984 that you'll watch on cable every single time it comes on.
Earlier in the season, there was a decidedly Ferris Bueller-esque chase sequence and now, Jane by Design looked toward Sixteen Candles for its 80s reference du jour. In "The Surprise", it's Jane Quimby's birthday, a time for the young lady to celebrate all that she's accomplished with the ones she loves and take a day to reflect rather than constantly be on the go. But this is Jane by Design and you know it won't quite be that easy, particularly when Ben gets revved up and puts on like he forgot Jane's birthday in order to surprise her later. Cut to all types of misunderstandings, some hurt feelings, and a birthday party that may have ruined Jane's birthday and the relationships of at least two of the show's couples. I tend to get a little nervous when the show amps up the cutesy factor, only because it's such a fine line between being charmingly goofy and being gimmicky and saccharine, but the show really pulled it off this time. Yes, it was a tad cheesy, but it gave the characters a good excuse to gather in two big groups and honestly, it was just fun to watch. Plus, it side stepped the cliche of having Jane going back and forth between the two parties, changing clothes each time before getting caught wearing one outfit at another party, which is another fine example of the show's writing taking a step forward. They managed to make the double parties have the feel-good, delightfully doofy energy that the show has without taking the easy way out.
The thing is, though, with all the storylines going around, there's bound to be a dud in the box. And it looks like that dud might be Nick's, as a scout takes a shine to him and the young pitcher accidentally tweaked his shoulder trying to impress him. I like the actor that plays Nick and I like getting to see Ben in "mother hen"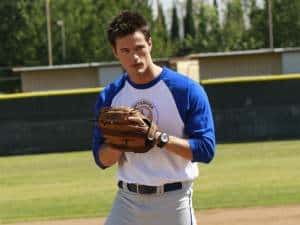 mode, taking pride in his occupation and the accomplishments of one of his players, but I don't feel like we know Nick well enough to really care if he gets into the majors. And what we've seen of him thus far has been fairly inoffensive and non-distinct, so he's not a background player that has gotten the call up to the big time; he's an okay cog in the Jane by Design machine whose major contribution to the show has been kissing Lulu (who has been reduced to one shrill note) and getting broken up with by Jane. Not nothing, but not enough for me to feel invested in his future and injured throwing arm, especially since he's not been that involved in the season to date. He's had one awkward, stilted interaction with Jane and we haven't even seen that much of his baseball life to begin with, which isn't enough to leap into a storyline like this. Given a couple of episodes, it could have felt more natural, but it just didn't do anything for me.
India's little blackmail scheme, meanwhile, still leaves me feeling a bit unsure. I'm glad that they already have Jeremy confessing, both for the sake of his character and the show itself. Have this threat hanging over him for too long, the danger goes away and Jeremy looks spineless not doing something about it, but they managed to get it out into the open. Having it out there could speed the plotline along and keep it from dragging into monotony, though India doesn't seem to have the will to pull the trigger anyway. You could look at that in two ways; either the writers have given the character enough vulnerability and humanity that her inability to ruin a former lover's career exemplifies or they've made the "villain" of Jane by Design inept and toothless. At this point, I don't think it's an either/or case, but if we're going to believe that India is this dastardly presence meant to bring down Donovan Decker, it'd be nice to see her in action again. She had moments of (minor) sabotage earlier in the season, but upon her return, it's been all talk.
Allowing India to become less outwardly evil may have reduced the "danger" that Jane's in, but it's a good sign that the writers have been trying to deepen the characters in the world of Jane by Design. "The Surprise" had three distinct examples of character moments that highlight, arguably, the thesis of the show itself – there's more to people than meets the eye and if you spend enough time with 'em, it'll eventually come to the surface. For example, Ben's palpable hurt in talking about his mother after receiving a card from her puts more emotion into the situation that he and Jane have found themselves in; he's such a happy-go-lucky type of person that something shaking him that much has to have roots deep down in his psyche. The show had previously alluded to the abandonment that the two siblings had went through, but with neither of them ever (really) opening up, it didn't have as much resonance as it could have (or should have). With their mother stopping by, Ben will be opening up emotional wounds long thought healed and that can only ground his character, making him a more relatable presence in addition to a lovable goofball.
The other "surprise" in the episode was that Zoe isn't the oddball bad girl of Billy's dreams. In reality, she comes from a (very, very) wealthy family, not exactly the type of person that Billy was looking for after his time with Lulu. (I figured it out after the look she gave him once he talked about "people like us".) Not only is it telling that Billy fell for another girl with a double-life, it could be the thing that pushes him away from pretty much everybody for good. After coming home from juvie, Billy was already at a distance from the rest of the world, so finding out that the one person he's found solace in (and that accepts him for who he is) isn't who she says she is should be a major, major blow to come later in the season. You want Billy to be happy and to have someone in his life that isn't Jane to rely on, but I actually liked the Zoe reveal, as it too goes along with the "thesis" of the show and gives her a little more shading than previously. Before, she was a pretty charming yet fairly innocuous good-girl-in-bad-girl-uniform, consulting with Rita about transcripts yet dating the school pariah. Now there'll another little wrinkle in her interaction with Billy and there's untapped backstory that they could explore through said interaction. Why did she rebel so hard against her background? What made her decide to not claim her family? And, for that matter, who is her family?
Thoughts, Quotes, & Observations:
-"I wouldn't want things to get to awkward for me."
-"No, that was just small talk. Which I'll avoid using in the future."
-"Don't care. Don't care. This one's okay. Still don't care."
-"Oh, no. She's going to think I got all dressed up for her."
-"Literally? So you've tried every single wing on the planet?"
-Clothing of the Night: I died over India's white trench. Died. I am reviewing this from beyond the grave. You're welcome.
-There was a character named Amanda Clark introduced tonight. Emily VanCamp is getting all the roles right now, apparently.
-I may really, really like Eli and I didn't expect that. If they take Eli/Jane slowly, I may be on board their little love train after all. Their "fake date" was the type of sunny, summery vibe that the show can utilize so well when it needs to, balloon gift and all.
-We never got to see Billy's present to Jane, you guys. What do you think it was? My guess is a piece of jewelry with something engraved on it.
-Team Rita. You?
-I didn't mind the "you're lying about your age, Jane" fake out, if only because it's a birthday episode. Don't push it, though.
-The dad from Smart Guy and Grayson's baby mama from Cougar Town were on the same episode. Awesome.
-Next week on Jane by Design: Jane searches for answers from her mom and Billy wonders about Zoe's sudden change in demeanor.