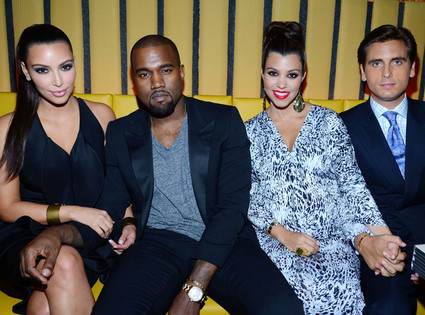 E! Has announced they have renewed Keeping Up With the Kardashians for an epic three more seasons. And yes, I use the word 'epic' will all due sarcasm. Funny, I ran into a box of Wheaties at the grocery store this morning and it had a vintage picture of Bruce Jenner on the cover; thought that ran through my head: how the mighty have fallen. Jenner's bank account's response: FTW!
Yes the empire that was launched off an amateur porn tape, a connection to the most notorious murderer to ever walk free, and the bad plastic surgery choices of a former Olympian, will go on for the next 3 years AT LEAST, giving us all the 'boy I'm glad I'm not rich and stupid' break we so sorely need. It's a catharsis for the middle class! The sheer genius of the producers, making us hate money like that. So I say this Keeping Up With the Kardashians news is all win-win.
Perhaps most intriguing about this announcement is E!Online's revelation that Kim has been seen with Kanye West in public. From the looks of the snapshot, Kanye is already practicing his best smoky look for the next Kardashian Christmas card – God knows the douche-bag to the right, Scott Disick, has it down pat. Now, Kanye has no contract with E!, but if things are getting as 'serious' as they seem to be insinuating could we be seeing Kanye on Keeping Up With the Kardashians? One can only hope.