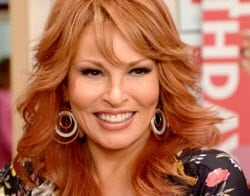 Raquel Welch is back in the news for the first time since Seinfeld (jokes!) as she's just signed on for Lifetime's upcoming Versace movie. No, she won't playing Donatella herself, that honor goes to Gina Gershon, but she will play the woman's aunt, Lucia.
The film also stars Enrico Colantoni as Gianni Versace and Colm Feore as their brother, Santo. You will know Colantoni from his role as Keith Mars in Veronica Mars, and it's awesome to see him land a lead role like this, even if it is a Lifetime movie.
According to THR, here's the plot of the film:
"The original movie is based on Wall Street Journal reporter Deborah Ball's book 'House of Versace: The Untold Story of Genius, Murder, and Survival' and centers on Donatella, who after her brother's slaying is thrust into the spotlight as head designer of his fashion empire. At first ridiculed by critics worldwide, Donatella falls victim to drug addiction and nearly bankrupts the company. With the help of her family, including daughter Allegra, Aunt Lucia and brother Santo, she enters rehab to confront her demons and soon comes back stronger than ever to reignite the beloved Versace brand with her own vision and builds one of the most powerful and influential fashion houses ever known."
Yup, definitely sounds like prime material for a Lifetime movie if I've ever heard one.
Welch has mostly been dormant acting-wise these last few years, with a stint on CSI Miami for one episode, and appearing in the shortlived series, Welcome to the Captain. Her last film role was in 2006.
But yeah, George Costanza has to be excited about this.