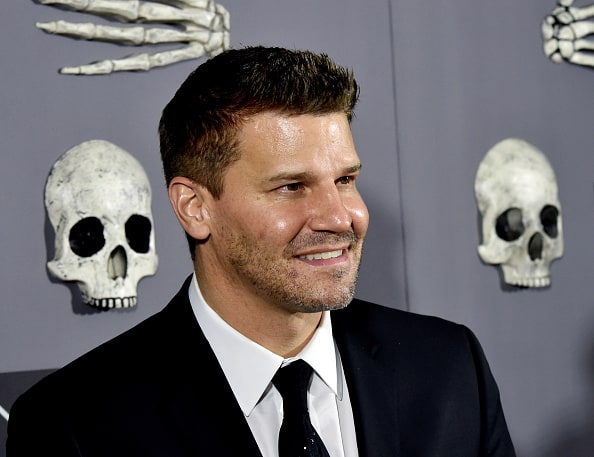 Today, we celebrate a very important group of people in the United States. Every year, November 11 is set aside to thank the people who have served our country in the Armed Forces. These heroes should be thanked everyday for what they have done for our country, but this is the actual day observed on the calendar.
In addition to the real heroes who have fought for our country, there are countless television characters that have spent time overseas fighting in the Army, Navy, Air Force, etc. Many of these characters have taken on different jobs after retiring from their respective military group: Bones' Seeley left the Army and is now a Special Agent for the FBI, while Grey's Anatomy's Owen Hunt, also a part of the United States Army, became a Trauma Surgeon at Grey Sloan Memorial Hospital after his stint. Here is a list of characters on current television series who are veterans. After you thank the veterans in your hometown, you can thank these fictional ones by watching an episode of their television shows.
Seeley Booth (David Boreanaz), Bones
Before Seeley Booth began solving murder with Dr. Temperance Brennan and the rest of the gang from the Jeffersonian on Bones, he fought for the freedom of our country in the Army. Joining the military is in his family's blood as his grandfather, father, and recently deceased brother all enlisted. Booth was a Sniper in the 101st Airborne Division, Special Forces and 75th Ranger Regiment. He most notably served during the Gulf War, but was also a part of the teams serving in Somalia, Guatemala, and Kosovo. During his time serving, Booth was awarded the Purple Heart, Bronze Star, and Army Good Conduct Award.  He even held the record for longest shot in combat, which was recorded at over 1000 yards.  After leaving the military, Booth developed a gambling problem in order to try to cope with his departure. This demon is something he has dealt with last season and it almost cost him his entire family.
Dr. Owen Hunt (Kevin McKidd), Grey's Anatomy
If you want an experienced trauma surgeon running that part of your hospital, it may be a good idea to recruit a veteran for the job.  They would have a first-hand look at what real trauma looks like aiding the soldiers that have been injured during combat. That is exactly what Seattle Grace (Now Grey Sloan Memorial) Hospital did when they acquired Dr. Owen Hunt.  Dr. Hunt was a surgeon for the United States Army prior to working in Seattle. On his first day of the job, Hunt showed his worth when he performed a tracheotomy on a man with a pen.  We later foundd out that Hunt suffers from PTSD.  It is triggered by a fan above the bed at Cristina Yang's home.  In the middle of the night, he is strangling her because he thinks he is in combat.  For a few seasons the character Teddy Altman also appeared on Grey's Anatomy.  She was Owen's close friend in the Army.  Hunt would return to the Army at the end of season 11 and would bring along Dr. April Kepner with him.  This trip jeopardizes her marriage to Dr. Jackson Avery.
Leroy Jethro Gibbs (Mark Harmon), NCIS
It should not be a surprise to anyone that watches the long-running and popular series NCIS, that its main character Leroy Jethro Gibbs is a veteran. After all, the entire series is devoted to crimes involving both the United States Navy and U.S. Marine Corps.  Gibbs enlisted in the Marines in 1976. Before he became a Scout Sniper, he was a military police officer.  He was also part of the 1st Battalion 1st Marines in the Persian Gulf during Operation Desert Storm.  Soon after this, Gibbs would retire from the Marines with the rank of Gunnery Sergeant.  He began his post working for the Naval Criminal Investigative Service in the August of 1991 and has been with the team ever since.
Sam Hanna (LL Cool J), NCIS: Los Angeles
The NCIS spinoff, NCIS: Los Angeles, also has a veteran in its midst. Sam Hanna is a former U.S Navy Seal. It was his dream as a young child to become a SEAL team operator. This is odd because Hanna did not even know how to swim prior to enlisting in the Navy. When Sam finally did retire from the Navy SEALs, he held the rank of Senior Chief Petty Officer.  Hanna shows his honor by bringing an orphan named Moe to the United States after he killed his father when he was on a mission in the country of Chad about 10 years previously. He also told a Navy Commander he would find his kidnapped daughter even though it was a FBI matter.  Hanna went through a lot during his time as a SEAL.  He even admitted that he was buried alive by Serbian soldiers.  Hanna is now a Senior Field Special Agent for the NCIS.
Steve McGarrett (Alex O'Loughlin), Hawaii Five-O
The series Hawaii Five-O is apparently in the same television world as the NCIS franchise as LL Cool J, who plays Sam Hanna on NCIS: Los Angeles, has appeared on the series.  Lieutenant Commander Steve McGarrett is the head of the Task Force for the Five-0.  Prior to this gig, McGarrett was an Officer in the United States Navy.  McGarrett is the third person in his family to join the Navy. His grandfather lost his life aboard the USS Arizona when it was attacked at Pearl Harbor in 1941.  Most of McGarrett's time in the military is unknown as many of his tours were classified.  We as viewers do know that he served in both North Korea and Afghanistan.
Other Notable Veterans on Current TV Shows
David Rossi, (Joe Mantegna), Criminal Minds
John Winchester (Jeffrey Dean Morgan), Supernatural
Abe Simpson (voiced by Dan Castellaneta), The Simpsons
Kevin Swanson (voiced by Seth MacFarlane and Scott Grimes), Family Guy
Damon Salvatore (Ian Somerhalder), The Vampire Diaries
Jay Pritchett (Ed O'Neill), Modern Family
Jay Halstead (Jesse Lee Soffer), Chicago PD
What other TV characters are veterans? Let us know in the comments section below.
Photo by Kevin Winter/Getty Images