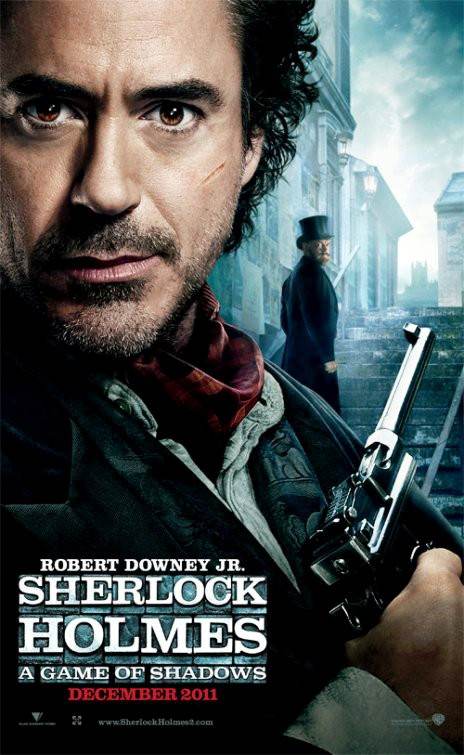 Jared Harris played a very memorable villain during the first season of Fringe as David Robert Jones, but we now have our first glimpse of Harris as perhaps the most famous villain in literary history. Harris will portray Sherlock Holmes' arch nemesis Professor James Moriarty in Guy Ritchie's Sherlock Holmes sequel Sherlock Holmes: A Game of Shadows that will be hitting the big screen December 16.
There are strong rumors that the trailer for this film will be attached to Harry Potter and the Deathly Hallows: Part II, the final instalment of the huge wizarding series that is released this Friday, July 15. Another film that is also rumored to preview a teaser before the new Harry Potter is The Dark Knight Rises; this trailer set is an exciting prospect before one of the year's biggest films. As a prelude to this Warner Bros Pictures have issued two teaser posters via Yahoo! Movies. It is the one that features Jared Harris in the background that is sure to cause the biggest response as it is unveiling Moriarty (for a better look click on the image). The second poster features Jude Law reprising his role as Dr. Watson, The Girl With the Dragon Tattoo star Noomi Rapace is in the background as a gypsy called Sim and can be seen here.
When it was announced that Jared Harris had landed the role of Moriarty in Guy Ritchie's Sherlock Holmes sequel fans of his TV work were not surprised by this choice; not only was he exceptional in the role of a smart but villainous character in Fringe but he has also been a terrific addition to Mad Men as Lane Pryce. His role in Mad Men started as an antagonist to his American co-workers, but he soon became vital to the world of Sterling Cooper and was an instrumental character in the move to the new agency Sterling Cooper Draper Pryce.
Harris recently spoke to I Am Rogue about Sherlock Holmes: A Game of Shadows, his role on Mad Men and how much he still loves watching Fringe and how he would even welcome a return to the sci-fi show (for our thoughts on this head here). The Sherlock Holmes poster revealing Harris as Moriarty at this early stage of marketing backs up something Harris said in regards to his performance:
"But I didn't look at it ['appearance' by Moriarty in the first film] and try to figure out a way to always stay in the shadows or something so you can't see my face. It's a new story and obviously the character is connected to that first movie but it doesn't follow on exactly or directly from that story. I had license to interpret it and do it however I'd like to."
Jared Harris is not the first member of his family to play a famous literary professor; his father Richard Harris played Professor Albus Dumbledore in the first two Harry Potter films before his death in 2002. Hopefully this role as Moriarty will show a much larger audience what fans of Fringe and Mad Men already know about this talented actor.
This is a busy year for fans of Sir Arthur Conan Doyle's famous detective, not only is there this cinematic release but the second season of the BBC produced Sherlock will be hitting small screens this Fall. For news of the TV series, including which stories are being adapted head here.
Are you looking forward to seeing Harris on the big screen as Moriarty? Do you have a preference between the most recent TV and film versions of Sherlock Holmes? Let us know your thoughts in the comments below.