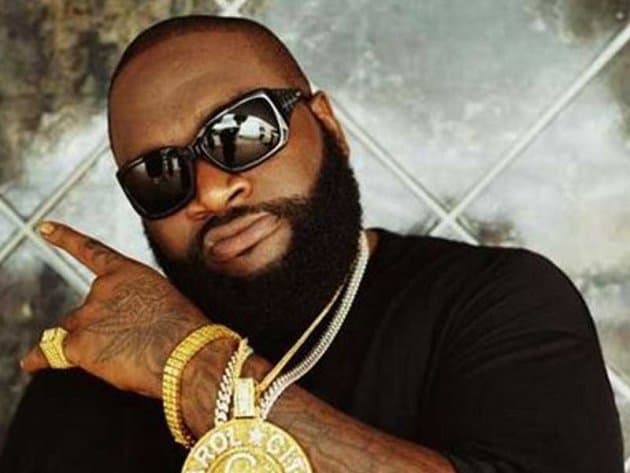 Miami rapper Rick Ross has joined the cast of 1950's drama Magic City for its upcoming second season, Starz announced today. The platinum lyricist and former corrections officer, who made his music debut in 2006, will be playing "Butterball," a proprietor of an illegal gambling house known as a bolita. Being in Miami and running an illicit business, "Butterball" has to answer to Ben Diamond, who is taking a cut of the profits. There's no word on when the rapper will make his debut or how many episodes he'll be in, however.
The second season of Magic City finds Ben Diamond exerting a little more influence around the city now that Ike has been put in jail. The hotel magnate might have a crumbling empire and a target on his back from Diamond, but he'll be heading to Cuba to find allies and set up a base that could help him take back what's his and send a message to anyone wanting to challenge him. That might include taking control of the bolitas, including the one that "Butterball" runs; that is, if "Butterball" makes it deep into the season and waits to make a move against Diamond.
Ross is the latest on an impressive list of guest stars for the sophomore drama, which was renewed for a second season before making its series premiere. The show will be welcoming Sherilyn Fenn (Twin Peaks) in the role of a brothel owner in business with Ben, in addition to James Caan (The Godfather) as Chicago mobster Sy Berman, Esai Morales (La Bamba) as former Cuban rebel Carlos Ruiz, and Jamie Harris (American Horror Story) as trigger happy gangster Nicky Grillo.
The second season of Magic City premieres this summer on Starz. You can check out the trailer for the season here.
What are you expecting from the second season of Magic City? How big of a role do you think Ross will play? Just how much of Miami does The Butcher control, anyway?