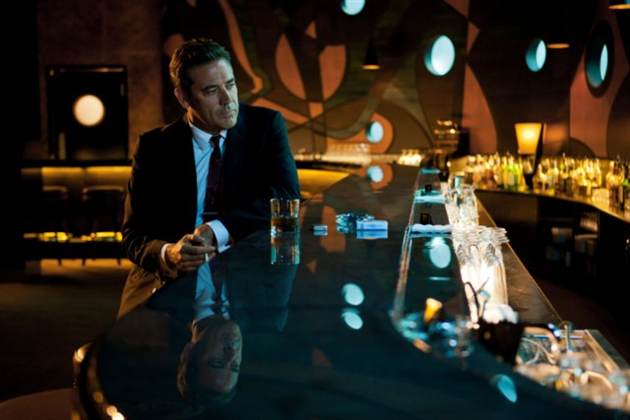 After seven episodes of backroom dealing with Miami's most infamous mob boss, Ike Evans might be out of rope. The Magic City entrepreneur, family man, and hotel don had been doing a decent job of keeping his family safe and his business appearing to prosper; it took killing Jimmy for it all to come crashing down. There might not be any eye witnesses to the murder of the mob hit man, but the men after Ike, particularly DA Klein, have been given a gift. Anything they can pin on Ike they will, particularly if they can get Judi talking, so it's no surprise to find him in jail in the season finale preview.
Also found in the preview is evidence that Stevie isn't quite ready to end his affair with Lilly yet, despite the danger that comes from the two of them being together. This will likely end one of two ways – either Ike will make it out of jail and bring down Ben Diamond once and for all, or one (or both) of the young lovers may not escape the season finale with their lives. Losing Stevie would be a huge blow to Ike and something that could loosen his grip on the throne of Miami, as something devastating like that would leave him emotionally crippled to the point where all the prestige and power didn't have the same luster.
He would blame himself for bringing Ben Diamond into their lives in the first place and while his son is a foolish, self-destructive charmer that would have gotten into something bad in due time, he might not have gotten involved with Lilly had Ike kept his distance from Ben.
In the extended sneak peek, meanwhile, Vera has defied Ike and taken up dancing once again. You'll recall that he explicitly forbade her from getting involved in the search for hotel entertainment, so if Ike finds out about Vera's return to the floor, there may be hell to pay at the Evans home. I feel sorry for Vera, as dancers often use movement to let out their frustration and stress and it's not been a great time for the Evans family lately; additionally, her identity crisis came about by having to let go of the field that she likely trained in for years upon years. Vera is, has, and always will be a dancer. It's in her blood and Ike blocking her from pursuing her passion in favor of being, essentially, a kept woman has really thrown her for a loop. Can she reclaim a little piece of her identity in the face of the hurricane coming straight for Ike?
The season finale of Magic City airs Friday at 10:00 on Starz. The show was renewed for a second season before the premiere aired.