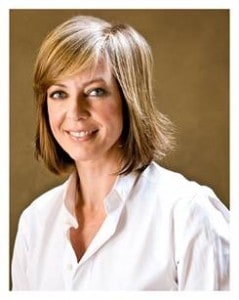 Showtime has announced that Emmy winner Allison Janney will be guest starring on Masters of Sex. She's set to play Margaret Scully, the wife of Beau Bridges' character, University Provost Barton Scully, in five episodes of the drama, which takes place on the cusp of the sexual revolution. There's no word about when she'll make her first appearance or any character details, but production on Masters of Sex is currently on-going.
In addition to her role as C.J. Cregg on the Aaron Sorkin political drama, Janney has appeared on the likes of Mr. Sunshine, Lost, and Frasier. She recently signed on for a role in CBS/Chuck Lorre comedy pilot Mom as the mother to star Anna Faris.
Based on the Thomas Maier book Masters of Sex: The Life and Times of William Masters and Virginia Johnson, The Couple Who Taught America How To Love, Masters of Sex stars Michael Sheen and Lizzy Caplan as real-life pioneers in the field of human sexuality, William Masters and Virginia Johnson. The two became infamous for their daring research into the science of sex, their findings turning them into a hot button topic at the pop culture water cooler and landing them everywhere from the cover of Time Magazine to appearances on late night talk shows.
In addition to Sheen and Caplan, the show also stars Caitlin Fitzgerald, in the role of Masters' wife, Nicholas D'Agosto, and Teddy Sears. The pilot will feature Bridges and Emmy winner Margo Martindale, as well.
Masters of Sex is set to debut Sunday, September 29th at 10:00 on Showtime following the highly anticipated third season premiere of Homeland. You can check out a first look at the series here, as well as the rest of the Showtime's 2013 premiere dates here.
Will you be watching Masters of Sex? Do you think that Allison Janney should have come to cable earlier? What are you expecting from her character?