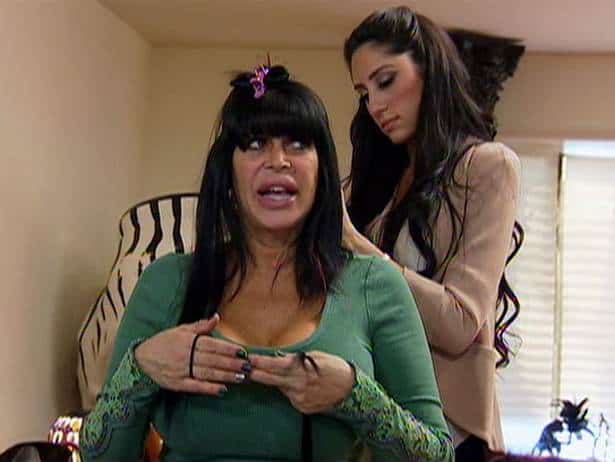 What do you want to accomplish in the next month? Year? 10 years? Do you want to finish school? Have a kid? Open up your own business? Maybe find someone to share your life with along the way? Dreams are often the easiest thing to come up with and the hardest to make come to fruition; you may want and wish for everything from a slimmer waist to a fatter bank account, but if you don't dedicate the time and effort to making progress on your dream, all that thinking would have been for naught. It takes someone dedicated, detailed, and, most important, hungry, to be able to achieve their goals, vaulting over the typical obstacles real life can throw at you and sticking the landing but good. And strangely, tonight's Mob Wives found multiple cast members doing just that.
It's both a good and a strange thing to see, this whole personal and professional fulfillment on Mob Wives thing. Not that the show is some hour-long gloom-fest; you (or I) just automatically associate Mob Wives with either near-brawls that take place in public or crying fits over the loss of yet another family member. After nearly two seasons of drama, the mind typically doesn't go toward positive forward movement when it comes to this show, but it was a pretty refreshing thing to see. Even though I may not be a big fan of every cast member and the image she presents on the show, I don't wish anybody harm in their real lives, so right now, let me say good for them.
After laying back in the cut a little bit over the past couple/few episodes, Karen got a prominent boost in the episode that really worked double-time to reverse any prior bad behavior. With her new spa opening and her daughter one foot away from being in the city full-time, she made the move to agree to talk to Drita, something I personally didn't think would happen. We're around episode 15 or so in the season, so it's been 13 episodes since the two rivals have been in the same room together. They may have flapped their gums about each other, but this will be the first meeting in many a month, all facilitated by a personally rejuvenated Renee (fresh from reconnecting with her father), a meeting that will finally banish the specter that has been hovering over the show. The thing is, though, I kind of see how Karen got the way she did, regarding her feelings toward Drita; she has Ramona constantly in her ear and she has a cousin that feels exactly the same way as Ramona. Do I think that Karen is a saint that has been corrupted by the evil, evil Ramona and Rena? No, not at all. I get that Karen's impulsive and naturally goes to her fists – I just think that things wouldn't have gotten nearly as vicious if she hadn't had people on her side that hated Drita, too. I don't know if their upcoming meeting will be a flop or a total success, but if it's the two of them with one mediator, I kind of think they'll make up.
Being in a positive place in your life can put a lot of things in perspective and I think the fact that both women are doing well may have done just that. They may not be best friends again, but no one's asking them to do that; there's nothing wrong with being cordial and not trying to drop kick somebody if you're in the same room as them.
Drita got to fulfill her dream of being in a rap video and having a verse of hers included on a French Montana song, which was another fun, light addition to a pretty low-key episode. Even though we hadn't been informed about her passion for doing music, you still had to love watching somebody be offered the chance to do something they've always wanted to do, especially since Drita kind of killed it. She let go of the Karen drama and the stress of Lee coming to Brooklyn to serve the rest of his sentence, the worries about her tempter and the loneliness of being a single mother and put all the energy they required into her performance in the video. And it showed, because the woman looked (and sounded) professional as hell, so good on you, Miss Drita. I don't know if she's planning on doing any more music, amid all the other career things she has going on, but for one verse, all eyes were on her and it was all types of fabulous.
The reason that tonight's episode of Mob Wives worked was because it gave us a lot of pay-off for a pretty downbeat season. The show may distinguish itself from its contemporaries for how raw and real it's willing to get, but to keep us her for the rawness and realness, there had to be a little hope to peak through. You want to believe that these women can rise above their circumstances and live the life that they want to – not for their husband, their father, or the children – but for themselves. You want to see the personal victories and professional triumphs now that you're invested in their lives, if only because they're that much more impactful after watching someone be beaten down for so many episodes in a row. Most importantly, it showed that no matter how bad something gets, no matter how dark everything around you may seem, there's always a light at the end of the tunnel. And luckily for us, we get to watch each of the Mob Wives bask in it.
Thoughts, Quotes, & Observations:
-"I'm sick of looking old and decrepit."
-"My husband is a sanitation worker. What's up with that?"
-"I've been doing drama for 42 years. I can do drama."
-The only thing about Drita's storyline tonight – did they really have to mail a physical CD to Bad Boy? No e-mail? Or taking it to them directly?
-Were Renee and Carla kidding about how Drita should take Lee back or…?
-Upcoming singer Rita Ora loves herself some Drita.
-Realitywanted.com interviewed Drita and the talk included topics like dating, the response the show's gotten, and her recent career opportunities.
-Have a question you wanted asked at the Mob Wives reunion? You can submit it here.
-Next week on Mob Wives: Drita gets another disappointment from Lee, Renee has a heated response to an interview question about Junior, Joe has a serious girlfriend already, and Karen's boo David moves himself and Karina out to New York.