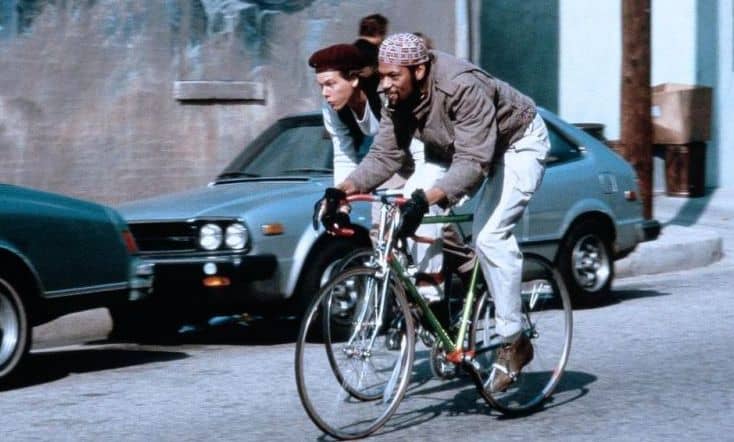 Laurence Fishburne was in the news today because rumor has it that the next installment of The Matrix is going to centralize the character of Morpheus.  Unfortunately there aren't many more details than that but I have no problem with this.  Morpheus is 100 times cooler than Neo and giving him a little more screen time would be fine by me.  Speaking of Laurence Fishburne, I wanted to bring up one of my favorite all time Fishburne movie roles.
If you haven't seen the 1986 classic Quicksilver, you have no idea what you're missing.  100% vintage 80s movie starring Kevin Bacon as a stock broker who loses all his money in the market to eventually become a bike messenger.   Along the way he meets interesting characters in his new biking job including Jami Gertz, who plays Terri and Paul Rodriguez who plays Hector Rodriguez.  Hector's dream is to own a hot dog stand.  I just thought I'd mention that plus there's a scene in the movie he's wearing a powdered blue tuxedo.   But the coolest character of the bunch is a guy they call Voodoo, who is played by none other than Laurence Fishburne.  Voodoo is another bike messenger but he's known to deliver questionable goods like drugs and other illegal stuff.  The legit bike messengers don't really like him much but Kevin Bacon's character takes to him.
He and Bacon's character Jack Casey develop a "friendly" rivalry if you will.  The two have respect for one another's cycling skills and it all comes to a head when the two square off in a street race.   Of course I have the street race below.  By the way this race and scene couldn't be any more 80s if it tried.  Roger Daltrey heads up the soundtrack for this particular scene.  Remember folks, before there was Morpheus, there was Voodoo.