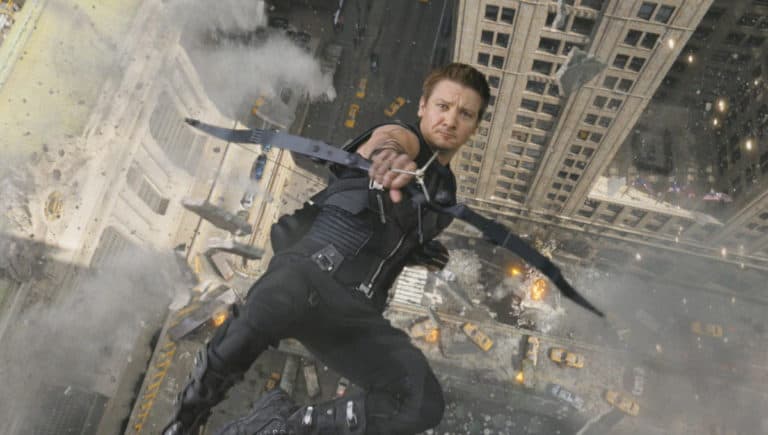 Yes, Iron Man and Captain America were bound to get their own films and we've seen the Incredible Hulk on the big screen solo played by Edward Norton and Eric Bana, but when will Hawkeye get his due? It's not like he hasn't been around for a while. Hawkeye made his debut in Tales of Suspense #57 in 1964 and joined up with superheroes in The Avengers #16 in 1965. He has gone from bad guy to good guy to brainwashed guy and back. He's been through the tumultuous washing machine of life and has come out all the stronger for it.
What makes Hawkeye resonate so intimately with fans is that he is not a god, he is just a mere mortal with a troubled past. Yes, Tony Stark and Dr. Bruce Banner are amazing but they are augmented by science and technology. Hawkeye is just a super marksman which comes in handy when you want to take out a villain without destroying the whole city. Thor is pretty good at aiming that hammer, but Bruce Banner does some serious property damage when he Hulks out.
Like another character who is in need of her own movie, Natasha Romanova (aka Black Widow) the strictly human superheroes have to be twice as hard with no infused power. They can't morph into anything or slip on a protective suit; they are more vulnerable but they fight on anyway. Yes, it's great to be a rich genius playboy or a savior legend from another world, but what many fans love is that Clint Barnes' story is our story.
Imagine a movie that recreates the amazing backstory of Hawkeye's troubled past fostered in a circus and tracks him to present day. Fans of the Marvel films who have not read the comics would find out so much to explain why Clint Barnes deserves his place as an Avenger. His place on the team is often derided. He is portrayed in parodies as the archery club kid who insists on trying to sit with the cool kids at the lunch table.
Hawkeye makes a brief appearance in the viral parody "Get Loki" where the rest of the team literally shoves him aside. True that video lampoons the whole gang but this is how it really is for Hawkeye in the Marvel universe. Jeremy Renner realizes this too and has a sense of humor about it. He sang a Hawkeye on The Tonight Show and although it was hilarious, it had poignancy. Parodies often tell the awful truth.
It's not like they don't have an amazing star to play Hawkeye. Jeremy Renner was the perfect guy to bring him to the live action screen. Although Hawkeye is described as taller in the comics, Renner a medium sized guy who is not too handsome (honestly, he's no Chris Hemsworth) and is muscular and fit but not too pumped up–he's the kind of guy kids of all ages can root for as a superhero.
So when will we get that Hawkeye movie? With talk of a Dr. Strange sequel (and probably at least ten more Iron Man films in the works), it's a bet that Benedict Cumberbatch is the new "it" guy in the Stan Lee stable of heroes stars so we're not keeping our hopes up too high for Jeremy Renner as Hawkeye to get his own feature film Still fans take heart as Hawkeye on The Avengers team will keep doing what he has always done–facing down great danger from humans, aliens, machines, and whatever else is thrown at him with just his mad skills with bow and arrow.