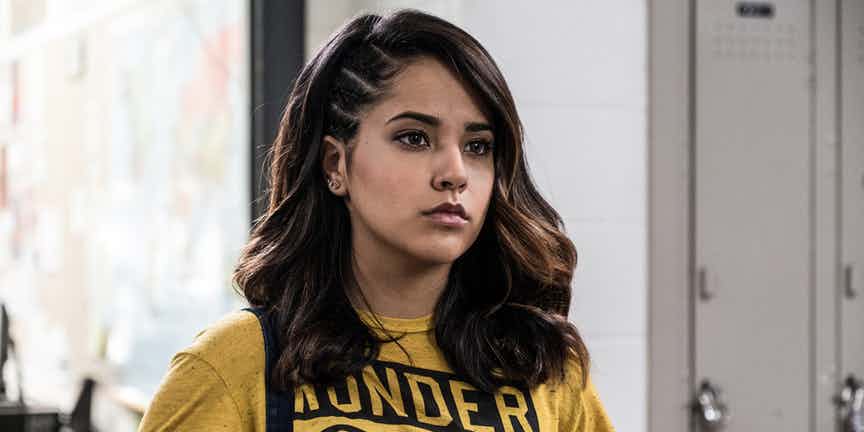 In a year of reboots, remakes, live-action films, and groundbreaking new genres, Lionsgate films is doing something that none of the comic book movies have done yet.  The Power Rangers movie will be introducing its first gay superhero.
The reboot of the 1990s action-adventure television series is characterized by The Hollywood Reporter as "the first big-budget superhero movie to feature an LGBT protagonist": Trini, the Yellow Ranger.  The revelation apparently arrives in a small but "pivotal" moment in the film's second act, when one character assumes Trini (played by Becky G) is having "boyfriend" problems, but realizes instead it may be "girlfriend problems."
"For Trini, really she's questioning a lot about who she is," director Dean Israelite tells the website. "She hasn't fully figured it out yet. I think what's great about that scene and what that scene propels for the rest of the movie is, 'That's OK.' The movie is saying, 'That's OK,' and all of the kids have to own who they are and find their tribe."
I've said before that I'm not really looking forward to the new Power Rangers movie.  Personally I think it'll be a little too juvenile for my age bracket but I don't want that to take away from anyone seeing it.  Also, I have to give a big kudos to Lionsgate for making this important leap.  Too many superhero films are characterized by a sense of "macho" and sexuality with characters that help us identify in male and female terms.  But who cares what their sexuality is?   As long as they're doing their jobs, creating entertaining action scenes and saving the day, what's the difference who their partners are?  It's nice to see that movies are beginning to catch up with the times.
I doubt that Power Rangers is going to get as much resistance as Beauty and the Beast for mere fact that The Power Rangers gay character is female and Beauty and The Beast's is male.  I hate to say it but I think it's true.   As to which studio is going to introduce the first gay male superhero?  That should be very interesting.