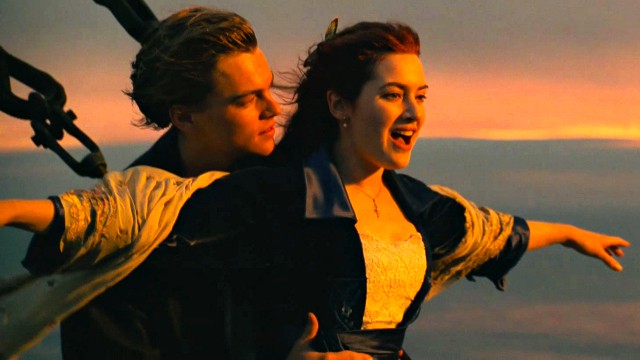 I'm a huge film nerd who owns so many DVDs that they literally need their own separate room for storage. One movie that I always remember watching when I was younger (although I probably shouldn't have been watching it at my age) is Titanic, and even though I've seen countless movies that I would argue are better than Titanic in the years since I've watched it, you can't dismiss the sheer cultural impact that the film on the American public. Titanic united both male and female moviegoers – guys who wanted to watch a tense, gripping, story about a historical tragedy and girls who loved the romance between Jack and Kate (and who loved looking at Leonardo DiCaprio even more). So much has been discussed and debated about the film since its release 17 years ago that you would think there's nothing left to talk about with regard to it. However, here are ten things you might not have known about Titanic.
The studio reportedly wanted Tom Cruise or Matthew McConaughey for the role of Jack Dawson
I still forget that Leonardo DiCaprio wasn't a big star until after Titanic hit theaters. He ultimately proved to be the perfect fit for Jack Dawson, as Leo exemplified that youthful honesty and energy that makes the romance between Jack and Rose so compelling. And even though Tom Cruise or Matthew McConaughey's notoriety may have seemed more attracted to the studio, I honestly can't picture either of those two guys in the part. Cruise is too smarmy and would not have been able to capture Jack's earnestness, while McConaughey appears to hardened and rough for this type of heartfelt romantic role.
Without the present day scenes in the film, Titanic would run 2 hours and 40 minutes, the exact amount of time it took the ship Titanic to sink
This is one of those "too weird" type of coincidences that can't really be explained. The fact that the past scenes in the movie, which recreate the sinking of the Titanic and the death of so many of its passengers, clocked in at the same amount of time as the actual sinking is just plain eerie. It's one of those facts that you just can't make up, and it only the amplifies the already present ghostly, melancholy quality of the film.
Even though Jack Dawson was a fictitious character, there was a real J. Dawson who died on the Titanic
Similar to how all the scenes that take place in the past add up to the actual Titanic's sinking time, the fact that there was an actual J. Dawson on boar of the Titanic is another one of those eerie coincidences. Apparently, while writing the script for Titanic, James Cameron was not aware of this J. Dawson but just happened to choose the name "Jack Dawson" for the main male character. Now this has me speculating if Rose was a real character or not also…
Jack and Rose's spitting scene was almost entirely improvised
The infamous spitting scene from Titanic, where Jack makes such a wonderful impression on Rose's upper class mother, was supposedly almost entire improvised. Knowing this, in my opinion, just makes the scene even better because you can really see the friendship forming between Leonardo DiCaprio and Kate Winslet during this scene. The chemistry that the two share is just unbelievable, and they've remained incredibly close to this day.