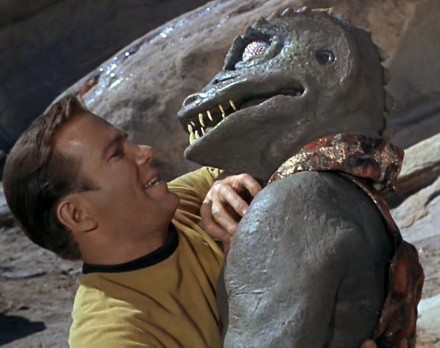 Does anyone remember the scene in the movie Cable Guy when Jim Carrey takes on Matthew Broderick at Medieval Times?  Remember how Jim Carrey is mocking one of the most notorious fight scenes from Star Trek?  That's because it's hilarious.  And just as the scene in Cable Guy is pretty funny, throughout history, Star Trek had its moments.
I don't think unintentionally funny fights get any better than Star Trek. Hell I don't think anything unintentionally funny beats William Shatner doing whatever it is her do. The way this guy talked, walked, and had a cocky vibe was all just so incredible. And then when this dude got nasty with an alien or even Spock, forget about it. Were shows even aware of fighting choreography back then? Well if fighting choreography was done by middle aged guys who did have an an ounce of athleticism or fighting ability then I guess, yes, shows were aware.
Whether Kirk was taking on Khan or an alien, these scenes reach the top of the unintentionally funny scale.
Possibly the Worst Fight Scene of All Time
Easily the worst fight scene in any movie ever and yet I could watch this over and over and over.  It's just too funny.
Kirk's Got Some Moves!
Wait a second?  Did I just see him use a wall like that?  Incredible.
Kirk Fight's Khan, Pro Wrestling Style
Man if only the WWE were around back then,  Shatner would be a shoe in.
The Kirk Chop as Performed by Not Kirk
Not as good as Spock's moves but pretty close

The Amok Time Fight Scene
I have no idea what's going on here.
This Man is My problem!
Still no idea.
Top Ten Clips – they'll all here

If Kirk's face in this thumbnail isn't motivation to watch this then I don't know what is.  Come on.  No one beats this guy.  No one.