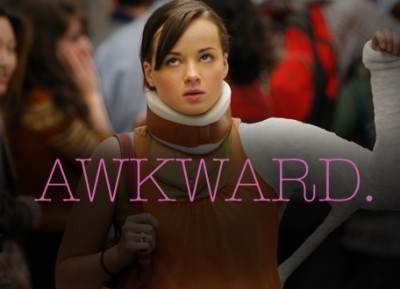 When we were first thrust into the world of MTV's Awkward., Jenna Hamilton was the "invisible girl", that girl you went to high school with who had a few friends and did okay in school but never quite stood out. Since then, our girl Jenna has spent her time snarking, sexing, and spreading her wings, to the point where she's ready to throw a party.
Granted, said party seems to mainly be a guise to impress Matty enough to get with the DTR-ing, but still, Jenna's getting her social butterfly on in a major way. The fruits of said socialness? A Hangover-eque battle to remember the night before, as Jenna kisses, well, somebody and she has to try to remember who and what this means going forward. Another Jake/Jenna liplock would be better for the series, as it'd throw Jenna off balance and make her question just why she's going after Matty. Having another instance of chemistry with Jake would make the choice between the two boys that much more difficult, Lissa or no Lissa, and it'd be interesting to see why Matty has been the ideal for her for so long.
Also, how cute is Tamara playing hard to get with the suddenly schmoopy Ricky Schwartz? The girl has a flair for the dramatic after all.
Awkward. airs Tuesdays at 11:00 on MTV following Teen Mom.