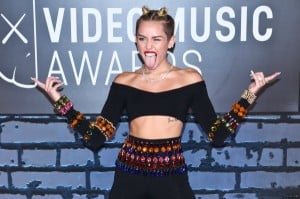 My, how the mighty have fallen. The backlash against Miley Cyrus today is actually kind of humorous. We are not a music site, so it so normally a story we wouldn't be touching, but it all unfolded on live TV, which makes it JUST OUR KIND OF STORY. Plus, don't forget, the only reason Miley Cyrus is really experiencing any of this backlash is because she started as an innocent TV star, with her Hannah Montana show on Disney years ago. Well, we bet Disney are shaking their heads today after Miley's silly and salacious performance last night on the VMAs, and Disney is not the only one. The Parents Television Council, who pretty much monitor all TV to make sure it is all age appropriate and that its ratings are befitting, had some key things to say about MTV and about Miley Cyrus in the wake of her performance last night.
So in a statement released to the press today by the Parents Television Council (of which more details are here at Entertainment Weekly), MTV was condemned for misleading their advertisers and the ratings board regarding what would be shown during the 2013 MTV VMAs. The show was rated TV14, implying that the show was appropriate for kids as young as 14 years old to be watching, yet anyone who saw last night's show can tell you, it did get a little out of control at times, especially if aimed at that young an age demographic.
The Parents Television Council has made claims before that MTV does this on purpose, aiming inappropriate programming at younger demographics without issuing the proper warnings that go along with such programming, but MTV will always claim they are never fully aware of just how far certain acts will take it once a show goes live, which bucks a great deal of the controversy onto the star's actions, in this case, Miley Cyrus.
So who is right and who is wrong?
It is an philosophical debate, and one there is no solid answer for, but even I can say, she pushed things a little TOO far in her performance last night. Did you guys see the video of the Smith's family reaction to her performance? Priceless stuff, and pretty much sums up all the world right now. MTV had to know there was going to be some backlash, right? Safe to say, MTV and Miley had this planned out, and are loving every minute of every ounce of attention they are getting for this.
For that exact reason, we will stop talking about it now.