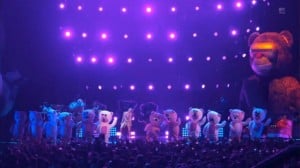 Sometimes I wonder what successful things say about us and reflect upon us as a society. Yesterday, for example, all the world was a flutter with how trashy and tasteless the 2013 MTV VMAs were. Yet, the reality of the situation, as reflected in the numbers MTV got that night, is that pretty a testimony to the fact that everyone on earth and their mother watched the 2013 MTV VMAs, completely shattering the all-time-ratings low MTV got after last year's VMAs. Read all the gory details here at TVLine.
To put it in perspective, last year's VMAs brought MTV roughly six million viewers in their target demographic, whereas Sunday night's VMAs brought in ten million plus. Though not all all-time-high for the channel (that was in 2011 when Gaga performed at the apex of her fame), ten million is still a staggering figure to bring in, and keep in for two hours. Especially considering what you were forcing them to watch. That was not so much entertainment as it was a fancy car wreck we all just couldn't look away from.
But now, a day later, the MTV network is experiencing some backlash from quite a few different sources, including some other industry people, and though a few particular performances may be the focal point of the attention (Hannah Montana, what happened to you?), the reality is, with numbers in the high millions like that, safe to say they will only attempt to repeat the spectacle next year.
Honestly, after this year's debacle, we may just go to the movies next year on the night the VMAs air. Seems a far more logical and enjoyable way to spend an evening.