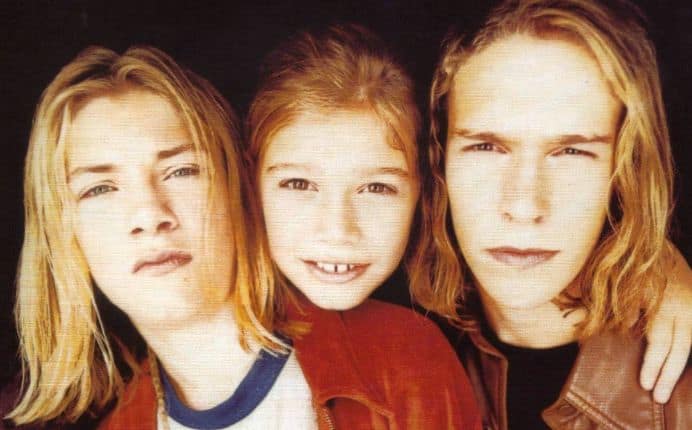 I think it's safe to say that whenever there's news about the band Hanson you automatically stop everything you're doing, read about it, do a cartwheel (or at least try one) and then go back to whatever it is you were doing.   According to Yahoo UK
Hanson have announced that they are going on a worldwide tour this year in honor of their 25th anniversary. The Middle Of Everywhere tour will start in their home town of Tulsa, Oklahoma on May 21st before heading around the globe, performing in London on June 10th. As if that wasn't enough, the three brothers will also be releasing a Greatest Hits album as well as a new Christmas album, called Ooh Christmas. We know what we'll be asking Santa for this year… In honor of Hanson's grand return, we thought that we'd track the group's style evolution from when they first burst onto the scene as fresh-faced preteens in the early 90s to now, enjoy!
A greatest hits album?  Isn't "MMMbop" their only hit?  I think they had one other "hit" but I couldn't tell you the name of it and I have no desire to look it up.  What I can tell you is my fond memory of the first time I saw the video for "MMMbop"  This was during an age when MTV actually showed videos and I think I was scrolling around the TV when all of a sudden this pretty cute blond girl was belting out this super catchy tune.  I remember thinking that this girl was going to be the next star after this song picked up enough plays.  When I found out that he was a she I was disappointed but never regretted thinking he was a pretty hot chick.  It's the same thing as when you saw the Nelson twins for the first time.   Everyone under the sun thought they were two hot blonds.
Anyway, looking at the photo above doesn't the dude on the left look kind of like a young Evan Rachel Wood and the guy on the right like Mayim Bialik?   Am I far off?