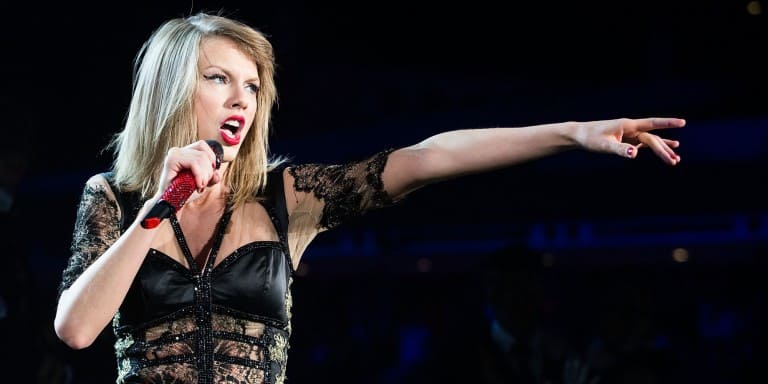 Remember at one point when everyone was caught up in the innocence of Taylor Swift? I think everyone's still kind of wondering just where that sweet little girl went, but are hanging on because she is still one heckuva good singer and a popular name and pretty face. She's not everyone's cup of tea but there's no way to deny that she's got talent and is one of the biggest stars in music today.
Here are some of her biggest hits that have made it into the movie industry.
5.  Fifty Shades Darker – I Don't Wanna Live Forever (w/ZAYN)
Women lost  their ever-loving MINDS when the first movie came out, but once they got a whiff of the original there were quite a few ladies that didn't come back for the sequel. Maybe they figured that the movie was going to faithful to the book and found out too late that such things rarely ever happen. One thing that strikes me as amusing though, and it's that women don't typically want to be objectified or seen as playthings. But then what excuse is there for a book, and a movie, like this? Fantasy, pure fantasy, that's usually the response.
4. Sing! – Shake It Off
This movie was just enjoyable on all levels. It addressed the issues of so many individual in so many different walks of life that you got to enjoy every last one of them in a different way within the same movie. They all had something to prove, but Rosita got to do so in a manner that allowed her family to know that she was for real and had a wealth of talent that wasn't meant to be taken for granted. Piggy power!
3. The Secret Life of Pets – Welcome to New York
Welcome to New York, a city that apparently has no control over it's pet population and lets them just run amok as they see fit. Just kidding. This movie was enjoyable after about the third time of watching it. There's just so much to see, so much to take note of, and the pace of it is just insane at certain point. It is extremely funny though, and it tells a good story.
2. San Andreas – Style
WATCH THE ROAD. Granted, the pavement won't just start cracking most times and you won't be in dangerous of being thrown off, or under, the road because of a massive earthquake most times. But still, keep your eyes on the road no matter if you've got a text, a call, or if a really good song comes on the radio. You really want to know why millennials get such a bad rap? Because everyone before them didn't have a cell phone to look at while they were driving.
1. The Hunger Games – Eyes Open
Let's hope the US isn't going to be leaning this way in the next few decades, because the result looking positively disastrous. If US citizens have to rise up against the government at any point in time I almost feel sorry for the government. Almost.
Taylor Swift is still on the rise despite her current level of fame, if you can believe that.
Save