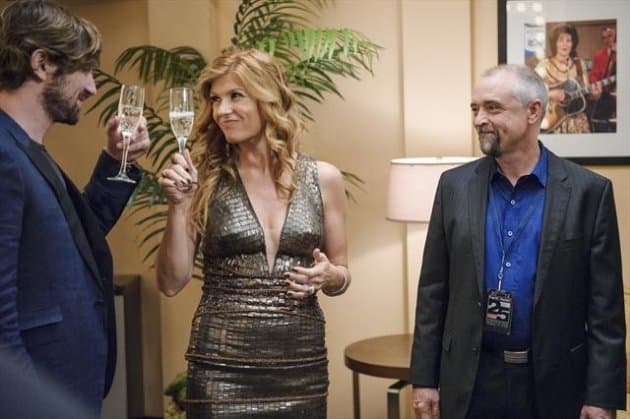 In a bid to get more people caught up on Nashville, CMT will be airing a marathon of the Golden Globe nominated drama on Sunday, January 6th. Beginning at 2:00 p.m. and extending through 8:00 p.m., viewers can relive the beginnings of the Juliette/Rayna rivalry, Teddy's run for office, and the Avery/Scarlet/Gunnar love triangle, as well as experience each song born out of frustration, lust, or a begrudging creative collaboration. The show recently released a soundtrack album, which climbed into the top 20 on the Billboard 200 and includes the songs that have been featured thus far.
Listed below are the times, episode titles, and episode descriptions of each episode in the CMT Nashville marathon.
2:00 p.m. – "Pilot"
Rayna's record label asks her to take a backseat role and open for rising star Juliette Barnes in the series premiere of this drama about a country-music legend fighting to stay in the spotlight while a young singer tries to usurp her.
3:00 p.m. – "Someday You'll Call My Name"
Rayna focuses on her family and discovers the depth of the financial problems she and Teddy face. Elsewhere, Juliette's mom comes back into her life; Juliette tempts Deacon with a contract offer; and Scarlett and Gunnar's shot at stardom is jeopardized.
4:00 p.m. – "We Live in Two Different Worlds"
Rayna's marriage faces a challenge when a woman from Teddy's past surfaces. Meanwhile, Juliette works on improving her public persona; Gunnar bonds with his publisher's assistant; and Teddy decides to run an ethical campaign.
5:00 p.m. – "You're Gonna Change (or I'm Gonna Leave)"
Rayna wants her music to have a fresh sound, so she contacts a producer with a solid track record. Meanwhile, Juliette tries to get good publicity by dating an NFL player with a pristine reputation; Lamar carries out a scheme to hinder Coleman; and Scarlett and Avery's romance hits a rough patch.
6:00 p.m. – "Lovesick Blues"
Marshall pushes Rayna and Juliette to perform a duet. Meanwhile, Peggy's behavior forces Teddy to be honest with Rayna; and Scarlett tries to move on from Avery by bonding with Gunnar.
7:00 p.m. – "Where He Leads Me"
Rayna examines her priorities after listening to Teddy explain his situation with Peggy. Elsewhere, Juliette enjoys the bond she's forming with Sean's family; Gunnar makes a confession to Scarlett; and Avery and Deacon get terrific career opportunities.
Nashville returns from winter hiatus Wednesday, January 9th at 10:00 on ABC. In addition to the CMT marathon, you can check out the entirety of the season on Hulu or ABC.com, while a preview of what's to come for Rayna and Juliette can be found here.