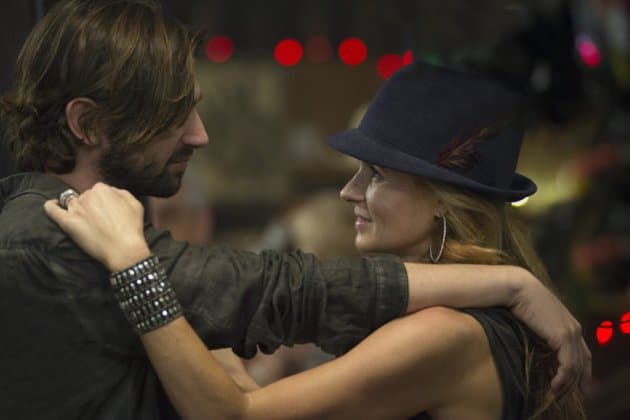 Rayna Jaymes is in her own words "a hot mess" in this week's episode of Nashville. After her husband Teddy asked her for a divorce at the end of last week, she is starting to lose it. If that isn't enough she runs into her former writing partner, (who is clearly attracted to her) Liam, while on tour with the love of her life Deacon!
As Rayna is trying to sort through her problems and keep up appearances, Juliette is switching things up on her end of the tour. Juliette may be young but she thinks she knows what she wants and what she wants is a show with less sparkle and more acoustic songs…this will be interesting.
In Nashville, Gunnar and Scarlett are getting used to living together with many funny and awkward encounters. One of the best moments is when Gunnar almost loses his towel when he jumps up and down with Scarlett in the kitchen. He does this after finding out that Rayna may want to sign them to her new label. Later that day Gunnar's brother (the recently released convict) shows up at the Bluebird Café and says he has turned over a new leaf and wants a second chance. Of course Scarlett eventually agrees to let him stay with them…at least for now.
Avery has a bigger role this week as well as he tries to navigate through the music industry and actually make money. In a twist of events Hailey (Gunnar's ex girlfriend) is trying to sign Avery, which would boost her career and bring Avery back into Scarlett and Gunnar's life…interesting.
In a switch to Rayna and the concert circuit it is clear that she is lost and the stress is getting to her. Then all of a sudden Liam walks in and you can automatically feel the sexual tension. But before anything happens, Rayna takes the stage and freezes for the first time in 20 years. Not surprising however is the fact that she bounces back quickly and rocks the rest of the show.
After the show, as Juliette celebrates her successful changes to her set, Rayna is off on her own trying to figure out what is going on with her. When Deacon comes to talk to her she blows him off and instead gives in and leaves with Liam. The two of them get drunk at a bar and dance for a while before kissing outside his hotel room. In a moment of weakness Rayna goes into his room and they kiss again but not for long. She takes a break and then has a complete breakdown in the bathroom…poor girl.
Juliette on the other hand is on a high from her newfound power and control of the tour. Her manager however, is not on the same page and starts going behind her back to keep the crew in line. Deacon finds out and tells Juliette which leads to a screaming fight at the hotel ending with her manager quitting…yikes. Not the most mature thing on Juliette's part but hey, she is a young and crazy musician.
Meanwhile back in Nashville Teddy is talking to Peggy (his ex girlfriend and current flame) when his oldest daughter Maddie hears him—not good. The next day Rayna leaves the tour and arrives back home to tell her girls about the divorce. As the Teddy and Rayna tell the girls the bad news, Scarlett and Gunnar sing another beautiful song to set the tone. After crying and hugging it out, Rayna goes into her room for a breather. Her daughter walks in and gives her a hug and tells her about her dad's phone call with Peggy. Rayna is shocked and completely caught off guard.
I have a feeling the next episode is going to crank up the drama… too bad we have to wait two weeks for a new episode!