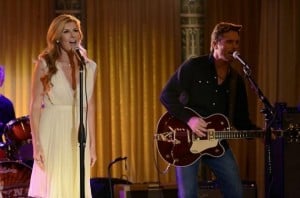 In a move that has thrilled me immensely, ABC has officially given Nashville a full season order.
The country drama starring Connie Britton and Hayden Panettiere was very well received by critics before its premiere and I personally loved the new drama.  Since the premiere episode I'll admit a few of the storylines have been uneven, but the show is still an enjoyable behind the scenes look at the music industry and has me convinced that Britton can literally do no wrong.
Nashville hasn't had incredibly strong ratings (it averages about 6 million viewers), but the most recent episode increased 11% in the 18-49 demongraphic and ABC has decided to give the show a shot.
The network has also given a full season order to The Neighbours, but the fates of Last Resort and 666 Park Avenue are still unknown.
Nashville airs on Wednesday nights at 10:00 p.m. ET/PT on ABC.  A new episode will be airing on November 14th.