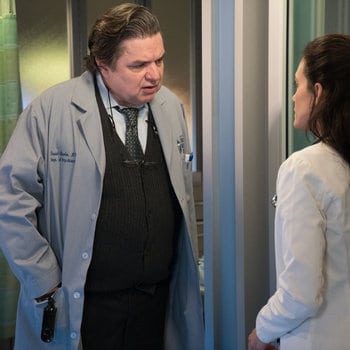 People think doctors have god complexes, but if there's anything this week's Chicago Med spoke to, it's that patients have their own ideas about what happens to their bodies. Two separate cases come into the ER that force the doctors to spend an enormous amount of time advocating for their patient's welfare.
Dr. Manning treats a 16-year old girl who refuses any pain medication even though she is in blinding pain. Her father is an addict, so she is firm about not even taking aspirin. The problem is the tests she needs normally require some type of anesthetic or pain medication. The doctors try to do without, but it just doesn't work. Since their patient is still a minor, Dr. Manning asks the father to override his daughter's refusal for pain management. Dr. Charles suspects that she might in fact be suffering from something physiological. As it turns out both father and daughter have a medical condition which requires pain management in the short term. The difference is that the father didn't know he had this condition and needed treatment, so he managed with recreational drugs which eventually turned him into an addict. It's nice that they finally have some answers, not that it necessarily means the father will stop using drugs.
Dr. Choi also treats a patient who refuses the type of treatment she needs. His patient is an impoverished single mother of two and is a surrogate. She begin to show signs of Pre-eclampsia, meaning the baby is better off being delivered. The only catch is that she doesn't get paid for the surrogacy unless she carries to term. She refuses to deliver the baby since it could mean she and her children go back to living in a homeless shelter. The adoption company is more of a corporation than a happy agency, refusing to take responsibility for a premature baby. It takes quite a bit of pushing to convince this mother to go through with the deliver so that she can at least be there for her own children.
Dr. Rhodes avoids his sister with startling efficiency. She finally comes into the ER to confront him about his anger towards her because she has chosen not to hate their father. You can tell it takes all of Rhodes's restraint not to tell her that their father really is responsible for their mother's suicide (since his affair triggered her hysteria to the point she wanted to jump off the roof). Rhodes has to come to terms with his anger towards his father, or at the very least not push his sister away because of it.
April is extremely put off when she witnesses some of her boyfriend Tate's old NFL teammates cheating drug tests with banana bags. She is even more disturbed that her little brother Nate, who is not yet a doctor, is the one supplying the bags. Nate's being extremely cavalier about his actions, and April finally accepts that the consequences for his actions do not fall on her.
Dr. Halstead gets an unwelcome blast from the past when an old high school classmate ends up in the ER. "Ginger Spice" as he is unfortunately known to them as, does his best to treat his classmate for a blood clot. The clot travels from the leg to the lungs, and the guy's brother initially blames Halstead. Halstead relinquishes control of the patient's care to an attending, but the brother comes back and asks him to continue being on point. Just because the brothers had fun teasing Halstead, doesn't mean they didn't respect him. Halstead goes up against the attending to advocate for his patient. He once again earns respect from his old friends, but now he's in the crosshairs of someone on the hospital hiring committee.
Has Dr. Halstead's luck run out?
Chicago Med Season 1 Episode 15 Review: "Inheritance"
Summary
Two separate patients refuse recommended treatment on this week's Chicago Med.