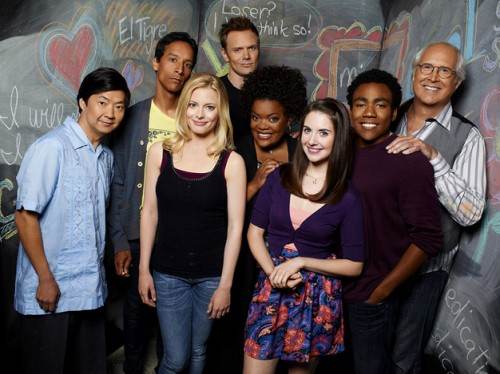 Good news for Community fans! Despite the fact that NBC has waited a long time to announce the return date for it, the network has finally put the show back on its schedule.
Community will return on Thursday, March 15, but it will take back its old spot of 8:00 p.m. EST, meaning it's still going up against CBS powerhouse The Big Bang Theory. Despite considering the idea of moving Community to another spot in an effort to boost its ratings, it looks like NBC decided this was the best choice. When Community returns, the new Thursday night comedy line-up will be:
8:00 p.m. Community
8:30 p.m. 30 Rock
9:00 p.m. The Office
9:30 p.m. Up All Night
Up All Night will end its 24 episode run in April, which means that Park and Recreation will return on April 19.
NBC is also announcing the premiere of three new comedies for Wednesday nights: Bent (March 21) with Amanda Peet and David Walton, Best Friends Forever (April 4) with Jessica St. Clair and Lennon Parham and Betty White's Off Their Rockers.