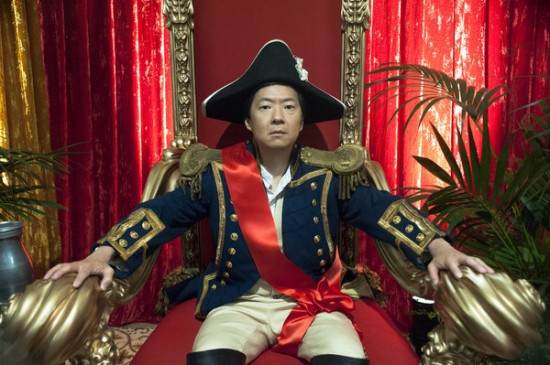 NBC has become the first broadcast network to confirm the premiere dates for each of its fall 2012 shows, both old and new. Due to the net having Olympic coverage this year, Go On and Animal Practice will be the recipients of airing behind the highly rated coverage and getting exposure before their time period premiere the following month. Interestingly, both look to be one-off sneak peeks vs. early starts, with the latter airing outside of its Wednesday timeslot. Additionally, NBC has scheduled Guys with Kids for a post-America's Got Talent premiere, similar to the strategy used for Up All Night and Free Agents last year. There's no word yet on what will be airing after it premieres, however.
Elsewhere, Grimm will make an early appearance, but like Animal Practice, it won't be at its normal day and time. The supernatural procedural will be airing after Stars Earns Stripes, a reality-competition series that will feature celebrities trained to execute military-style missions, before shifting back to Friday nights on September 14th. NBC has staggered a good portion of their fall premieres this season, with Whitney and Community getting a late start on October 19th. It's unclear what the network will be doing with their Friday nights until the two make their debut.
You can get a reminder of the complete NBC fall 2012 schedule here, as well as a look at each new show here.
Wednesday, Aug. 8
Go On (sneak peek following Olympic Games coverage)
Sunday, Aug. 12
Animal Practice (sneak peek following Olympic Games Closing Ceremonies)
Monday, Aug. 13
8:00-10:00 Stars Earns Stripes (two-hour premiere)
10:00 Grimm
Wednesday, Sept. 5
7:30-8:30 'NFL Kickoff Special 2012′(regular season)
8:30-11:00 Sunday Night Football (regular season)
Sunday, Sept. 9
7:00-8:15. Football Night in America (regular day and time)
8:15-11:00 Sunday Night Football (regular day and time)
Monday, Sept. 10
8:00-10:00 The Voice
Tuesday, Sept. 11
9:00 Go On (time period premiere)
9:30 The New Normal
10:00 Parenthood
Wednesday, Sept. 12
10:00 Guys with Kids (sneak peek after penultimate America's Got Talent)
Friday, Sept 14
9:00 Grimm (time period premiere)
Monday, Sept. 17
10:00 Revolution
Thursday, Sept. 20
8:30 Up All Night
9:00 The Office
9:30 Parks and Recreation
Wednesday, Sept. 26
8:00 Animal Practice (time period premiere)
8:30 Guys with Kids (time period premiere)
9:00-11:00 Law & Order: Special Victims Unit (two-hour premiere)
Thursday, Oct. 4
8:00 30 Rock
Wednesday, Oct. 10
10:00 Chicago Fire
Friday, Oct. 19
8:00.Whitney
8:30.Community