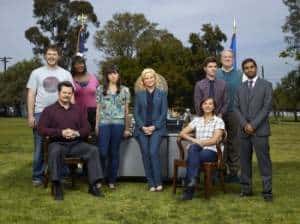 NBC's 2012-2013 line-up is quickly being unveiled. It's already been announced that veteran shows like SVU, Parenthood and 30 Rock have been renewed. Even Community was given a 13 episode order for next season. Now the network has rounded out the renewals of its Thursday night comedy-block by announcing the return of Parks and Recreation, Up All Night and The Office.
The Office lost its main star, Steve Carell last season and will also be losing James Spader. Mindy Kaling is also leaving and heading to her new Fox comedy, but Jenna Fischer, John Krasinski and Ed Helms are all expected to return next season. The show isn't the ratings grab it once was, but it still performs solidly for the Thursday night comedy block.
Parks and Recreation isn't a ratings grab, but it has a very passionate fanbase (much like Community) and is a critical darling, so NBC decided to pick it up for another season.
Finally, the network has ordered a second season for new comedy series Up All Night, starring Will Arnett and Christina Applegate.