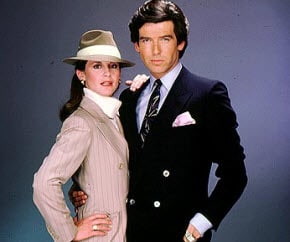 If it's old, it will be rebooted, and yet another show is coming back as networks look to dead programs to give them new life. On the reboot table this time around is Remington Steele, the '80s detective show that launched the career of a young man named Pierce Brosnan, as the titular Steele. Now, the show is coming back to life in the form of a half hour comedy from NBC, after the Peacock grabbed the rights from 20th Century Fox.
In the original show, Laura Holt (Stephanie Zimbalist), a PI, recruits con man Steele (Brosnan) to help her solve cases. There were sparks for five seasons, but the two didn't actually get together until the series finale. Now that's what I call a slow burn.
The new NBC show is not looking to recast both roles, but rather will star Olivia  Holt, daughter of Laura and Remington, who reopens the family detective business, and gets into the same sort of misadventures. Though the original show blended elements of drama and comedy (back before the term "dramedy" existed), it's going to be odd to see this function as a half hour comedy. Usually any show with a mystery has to be at least a full hour to ensure there's any sort of suspense and development. What can you really get done in a scant 22 minutes? I guess we'll have to find out.
Were you a fan of the original? Do you think this next-gen reboot could work?