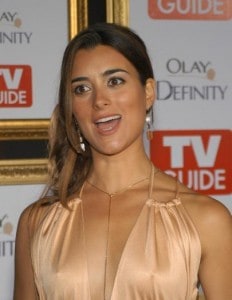 As we have told you, Cote de Pablo will be leaving NCIS next season to pursue some other interests. This news had come as a shock to many of the shows stars, as well as the writers and creators. And ofcourse, this led to much speculation that they would be killing off her character in some heinous and gruesome way. But as we have recently found out, that is not the case. Seems they want to leave her character more open ended, in case she ever decides to come back and join up again. Read the full story here at TV Line.
While they claim that killing her off would not be befitting to the character, me thinks they just want to keep the door open, considering she is a fan favorite on the show, and many are concerned how well the show will do without her, Remember, all you have to do is look at David Caruso, who got so big during NYPD Blue he decided he should leave and do movies. And he made about three terrible movies, and then came crawling back to TV, begging them to give him  steady job again. And they did. I cannot help but feel that is what producers of NCIS are hoping for here. Not saying the want Cote de Pablo to fail miserably at her movie career, but they are not exactly wishing her Angelina Jolie level of fame, if you know what I'm saying.
I, for one, wanted to see Cote's character of Ziva get killed off. I always thought that was en epic way to write a character off, but I guess I won't get lucky next season during her two episode swan song. Or maybe they are just trying to throw us off, and they intend to murder her brutally, regardless.
Man, can't wait to see how they, or IF THEY, off her next season.