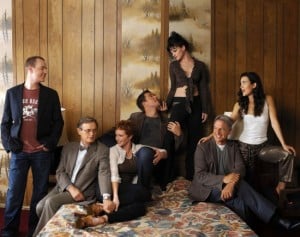 So all the hype lately in the TV world has been about Cote de Pablo leaving NCIS. What will the show do when they lose their most popular character? How will they write her off the show? What will she do next?What does this mean for the remaining cast? While none of these questions can be answered by us until we see how it all plays out, rumor is that CBS is eyeing someone from a certain old HBO show that everyone loved called The Sopranos.
TV Line reported earlier today that CBS is eyeing former Sopranos star,Emily Wickersham, to step into Cody's shoes. Not literally, we just mean take her place. She only had a bit part in the sixth season of the show, but being on The Sopranos definitely earns you the cred to step into a show as well-known and beloved as NCIS. Right now Wickersham only has a three episode deal, but that deal comes with some fine print about being able to become a regular if the run works. So, in essence, they are tossing her in the show, seeing if people like her, and if they like her enough, they will keep her on NCIS.
So really, it is the actress version of the 90 day grace period most of us normal people get when we start a job. NCIS and CBS just wants to make sure she is a good fit before they lock her into the role.
The new, and obviously exciting season of NCIS begins September 24th, so make sure you tune in to see what madness unfolds this season.