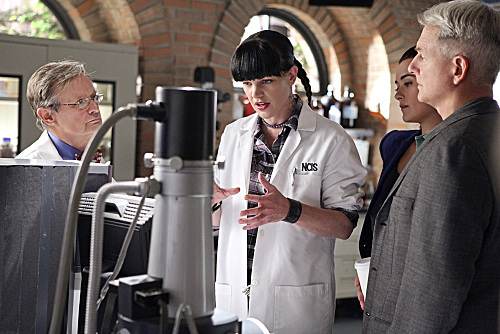 NCIS continues its explosive climb to the May 15 finale of Season 9. The four-episode arc started by showing that, even after nine years, there is much left to explore about the NCIS team. The first installment in the arc, "Rekindled", explained how eternal frat boy, Tony DiNozzo, (Michael Weatherly) became a cop.
The "Rekindled" episode featuring DiNozzo saving a child from a fire was as emotionally combustable as the fiery bomb material, thermite, that is the thread connecting the arc. Weatherly's poignant portrayal of a man whose life found meaning in the screams of a child is a far cry from the class-clown-exterior schtick he uses to razz his team. DiNozzo opened a painful vein for McGee (Sean Murray) and Ziva (Cote de Pablo) that is not revealed often to his NCIS teammates.
"Playing With Fire", the arc's second installment, continued the search for the American terrorist responsible for setting thermite fires aboard Navy ships. Dr. Donald "Ducky" Mallard (David McCallum) was challenged with autopsying the charred remains of three servicemen incinerated by the thermite explosions. Ducky revised his will to leave the bulk of his estate to the Marine Corps Scholarship Foundation after examining a picture of a decorated lieutenant with his family. McCallum's quiet respect for those who serve, speaks volumes that are louder than the explosions. Episode writers George Schenck and Frank Cardea mine the deep feelings of the NCIS team with dignity.
While "Rekindled" and "Playing With Fire" delivered some harsh realities of service life, neither episode is without the witty repartee and "team as family" NCIS theme. There are hugs, seasickness, flirting, determination, Gibbs-isms and jokes aplenty.
Tonight's episode, "Up in Smoke", continues the hunt for the terrorist. The promo at the end of "Playing With Fire" reveals that Jamie Lee Curtis will return as Dr. Samantha Ryan, the latest love interest for Leroy Jethro Gibbs (Mark Harmon). Richard Schiff (The West Wing) guest stars as Harper Dearing on May 8 and May 15 as a person of interest who may be exploiting the thermite explosions for greed.
Season 9 will conclude with the episode, "Till Death Do Us Part" on May 15. Set to coincide with events at Palmer's (Brian Dietzen) bachelor party, producers have promised that the season finale will explode with a big finish. With Abby (Pauley Perrette) organizing the party, the explosions are sure to be peppered with a lot of fun.
Full episodes of NCIS, including "Rekindled" and "Playing With Fire" can be seen at CBS.com.
Watch a sneak peek below for tonight's all new episode of NCIS, airing at 8:00 p.m. ET/PT on CBS. Use the arrows above to browse through photos for the episode.