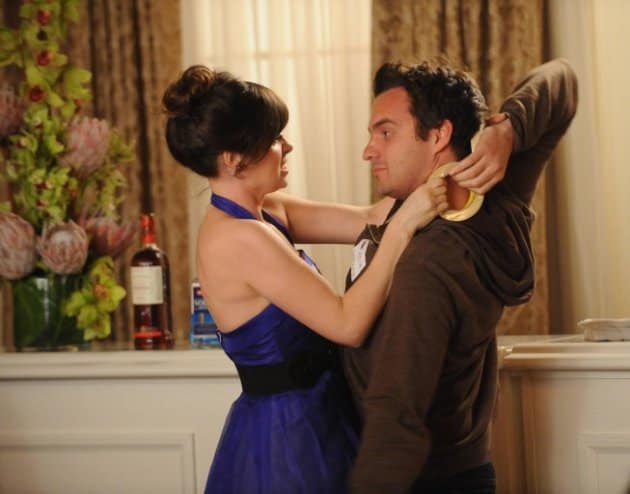 Taking chances is not one of Nick's (Jake Johnson) strengths on New Girl, but in last week's episode Nick threw caution to the wind and did something that could definitely change the dynamic of the group. Tonight we will see the aftermath of this incredible moment as things look like they could be getting awkward.
That moment that I have alluded to is of course related to The Kiss that happened at the end of the True American infused episode last week. After not kissing Jess (Zooey Deschanel) as part of the drinking game, Nick did something very out of character and became that guy who runs into the ocean without over thinking the situation. The kiss itself was extraordinary as demonstrated by the reaction on my Twitter feed and Tumblr dashboard, it was an embrace that can join other great sitcom first kisses and is likely to be referenced a lot in years to come. This Nick/Jess moment has been brewing and this season has been building up a level of trust and intimacy in their friendship that makes it feel organic.
Of course now is the difficult part for the writers, not just because of the dreaded and over used Moonlighting curse but because this sets up a whole new set of challenges for these characters. Unlike other 'will they/won't they' couples such as The Office's Jim and Pam or Ross and Rachel from Friends, Jess and Nick live with each other so that automatically makes things more complicated. Jess also has a boyfriend and Sam (David Walton) happened to be in the room next to where this epic kiss took place. Normally it is easy to dismiss the other love interest, but they've made Sam a really likeable character and it will be a shame to see him go. As you can see from the sneak peeks that might be sooner rather than later, though that doesn't mean that Nick and Jess are going to become a couple any time soon.
Both Nick and Jess are not particularly settled and while I personally would like the show to explore what could happen with Jess and Nick as a couple, it doesn't seem like either of them are probably ready for this. This would mean that both of them have to admit to how they really feel and even though this was an exceptional and passionate kiss, it looks like there is a lot of denial about to occur. Nick's telling Jess "not like this" in regards to the forced kiss, is a partial admission that there is something between them and because the actual kiss happens in such a spontaneous non-Nick like fashion, it might be harder for the truth to be realized by either Nick or Jess.
It's not just Nick and Jess who are having communication issues tonight, as Schmidt (Max Greenfield) continues his quest of trying to win Cece (Hannah Simone) back. This will see Schmidt go to some lengths to prove that he is the right guy for her as Schmidt gatecrashes an Indian marriage convention (along with his loft mates) that he knows Cece is attending. This involves Schmidt attempting to dress the part, a move that might not go down too well with Cece. This is after Schmidt insisted that he would move on if Cece proclaimed her love for Schmidt, ruining the date that she was on last week. The Schmidt/Cece relationship is very different to Nick and Jess, for a start their union came as a surprise whereas the latter has always seemed on the cards. It also started as a very physical affair, with the emotional aspects coming later and they have also become a couple to route for.
One character who is not having any romantic predicaments tonight is Winston (Lamorne Morris) who, after an unsuccessful spell has finally got his mojo back. This is thanks to Daisy (Brenda Song) who Winston met in the bar. Daisy pretended that she was engaged and this meant that Winston's lack of confidence with approaching women slipped away. It's about time Winston got a decent love story after his last romance lost its entire spark. Winston will also find himself in an awkward position as Nick tells Winston about his kiss with Jess.
Fox has released 8 clips for tonight's episode "Table 34" and you can see them below.