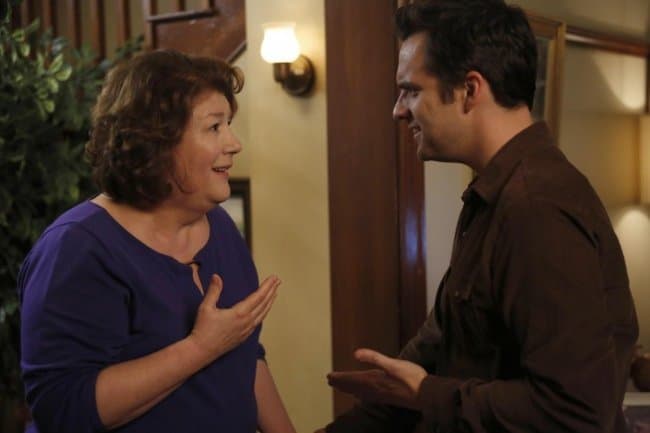 On the last episode of New Girl three out of the four roommates received an injury to the face and this physical pain had a dual purpose; to provide funny slapstick moments and to allow certain truths to be spoken. Schmidt (Max Greenfield) acknowledged that he was looking for something to fill the Cece (Hannah Simone) void and Nick (Jake Johnson) and Jess (Zooey Deschanel) shared the kind of interaction that viewers have been clamouring for since "The Cooler" (otherwise known as THE KISS).
The sexual tension between Nick and Jess has been simmering since the show began and it was only a matter of time before the lingering looks boiled over into another physical encounter. This time it took a whole heap of pain pills to get reach this point. Jess found herself more attracted to Nick after he started applying himself with work and his general appearance; this moment had been foreshadowed in "The Cooler" when Jess said "Some basic grooming, Nick, and you'd be smoking hot." It's not just about Nick figuring out how to do laundry, but it meant that Jess could no longer deny that she wants Nick bad. Thanks to a trip to a DIY store that ended with a plank of wood to the face, Jess revealed that she was both Judy Garland and that she wants to have sex with Nick. One of these things is truer than the other.
This drug induced revelation wasn't remembered by Jess, but Nick doesn't keep it a secret. First he tells Schmidt and Winston (Lamorne Morris) using a rather obvious metaphor and it surprised me that Nick would be so open about something that could dramatically alter the dynamic of their living situation; the last time he told Winston about a Jess related romantic encounter he got smacked in the balls. Things are going to change, especially as this kiss is now not just a one off moment. Instead arguments and telling each other to shut up could easily lead to another hot making out session.
Jess will be there for Nick in a very different way tonight as a death in Nick's family means that he has to head home to Chicago. Jess, Winston and Schmidt will make the trip with him to help him with the funeral arrangements. It's time to meet the rest of Nick's family including his mother Bonnie (Margo Martindale), his younger brother Jamie (Nick Kroll) and his Boston cousin Bobby (Bill Burr). The rest of the Miller family are not as enamoured with Jess as Nick is and they will take an instant dislike to her. Will Jess be able to win them over?
This has been the season of Nick Miller (Buzzfeed compilations included), but last week Zooey Deschanel showed why we should also be paying attention to Jess. Deschanel is particularly good at physical comedy and a lot of the best moments from "Quick Hardening Caulk" (a title that gets funnier when you hear it out loud) involved Jess and these physical moments. New Girl has shown that it can land both broad comedic scenes and smaller emotional ones; a funeral scene that will feature Jess dressed as Elvis should incorporate both of these factors and once again showcase Zooey Deschanel's talents as comic performer.
Last week was a tough one for Schmidt, but Winston showed what a good friend he is by aiding Schmidt in his outlandish fish hunt and by being the voice of reason with all things Cece related. Cece probably does need to stay away from Schmidt at the moment; Cece has the best intentions but her presence is confusing thanks to her forthcoming nuptials. A break away from LA could be the thing that Schmidt needs, even if he has a fear of death and they are heading to a funeral.
Watch a promo and preview for tonight's episode "Chicago" and to see Jess as Elvis and more promo photos click on the link below
http://youtu.be/-GB4AD3uTSY
http://youtu.be/Jb_rIQr4hNM