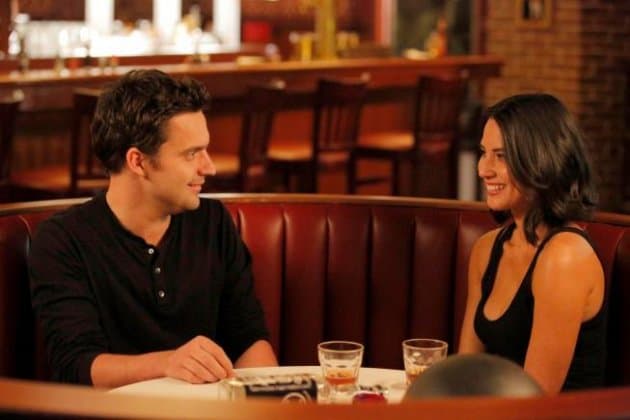 One sweet surprise from New Girl last season was the development of Cece (Hannah Simone) and Schmidt's (Max Greenfield) romantic relationship; from pure physical attraction to real feelings. In the season 1 finale Schmidt 'White Fanged' Cece – pushing her away because Schmidt's insecurities made him believe he wasn't enough for Cece. There is still a spark between them, but Cece now has a boyfriend (the very sweet Robby); will Cece break things off with Robby (Nelson Franklin) to be with Schmidt?
In last week's episode "Eggs" Cece found out that if she wants to have children then she needs to do it sooner rather than later. Robby's response to the having a family question wasn't what Cece wanted to hear and from what we've seen of their relationship it's nice, but not exactly passionate. Schmidt was also on the receiving end of a big revelation last week, as thanks to some not so great sex with his boss Emma (Carla Gugino) he realized that he's still in love with Cece. This was only news to Schmidt as it's been pretty obvious to his roommates. As you can see in the sneak peeks Schmidt talks himself into asking Cece out for dinner, find out her answer below.
The other couple that some New Girl fans are hoping will get together are Jess (Zooey Deschanel) and Nick (Jake Johnson), though tonight will not be the night as a new love interest is being introduced for Nick. Olivia Munn is making her first appearance as Angie, a customer in Nick's bar who is having boyfriend troubles. Nick gets into some awkward flirty banter with Angie that could definitely lead to more than just a friendly drink. I have to admit that I wasn't a huge fan of Munn's until I saw her in The Newsroom and her performance in that changed my opinion of her. I'm quite looking forward to seeing Munn in New Girl because of this and while I would like to see a Nick/Jess romantic relationship in the future, it is still too early in the life of the show and for these characters to happen now.
Jess is preoccupied with another mission tonight; getting a bathtub for the loft. Schmidt and Nick are very much against the idea and Winston (Lamorne Morris) pretends he is too, but he is a secret bath lover. This storyline means that Remy (Jeff Kober), the creepy but sweet landlord returns tonight and it can't get more awkward than an almost threesome, right?
Watch 7 clips from "Bathtub" below.