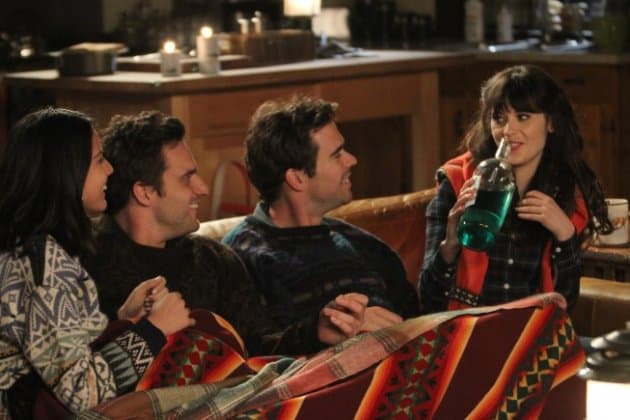 New Girl returns tonight with a weekend trip away as newly reunited Jess (Zooey Deschanel) and Sam (David Walton) head to a woodland cabin. They're not alone as Nick (Jake Johnson) and Angie (Olivia Munn) tag along; expect havoc. This leaves Winston (Lamorne Morris) and Schmidt (Max Greenfield) back at home and things descend into their own special kind of chaos here.
Jess is nervous about spending a romantic weekend with just Sam and so inviting Nick and Angie to join them seems like a good idea, but might be one that Jess regrets. Jess wants this to be a really fun weekend for Sam and these high expectations might get in the way of the actual fun. Angie makes a discovery in the cabin which you can see in the sneak peeks below that will provide some excitement, but also prompts Nick to claim "Fantasy and nightmare colliding."
Both Sam and Angie are a good fit for Jess and Nick at the moment and I appreciate that New Girl is not going for the heavy handed will they/won't they approach. As we saw in the Christmas episode Nick and Jess are still capable of having scenes that are full of crackling tension, while giving each other romantic advice. Olivia Munn and David Walton have shown that they are a great fit for this cast and even though neither is likely to be here for the long haul, each of these characters brings something new to Nick and Jess. When Nick dated Julia (Lizzy Caplan) it made sense to have tension between Jess and Julia, due to their differing personalities. I'm glad that this tension isn't present between Jess and Angie as it would get rather tired having Jess and Nick's love interests clashing.
Back at the loft, Schmidt has a new theory about Winston and Winston takes this opportunity to mess with Schmidt and his ridiculous idea. We took part in a conference call with Max Greenfield and he describes the thought process behind Schmidt's intentions tonight as "Schmidt kind of—in his own naïve sort of way, somehow assumes that he's being held back in the loft and is not feeling comfortable around white people, such as Schmidt and Nick and Jess, and doesn't feel like he can fully be himself. So he tries to, in his most idiotic of ways, tries to give Winston an opportunity to really spread his wings within the loft." As you can see in the sneak peeks Cece (Hannah Simone) and Nick are astounded by Schmidt's thought process.
Greenfield also discussed Schmidt's relationship with Cece and the many ups and downs it has been through, when asked if he would like to see them get back together he said "And personally, yes, I'd like to see them back together.  You try to play the character and make it as personal as possible and at this point, Schmidt is working so hard to get back with her that I think I personally kind of want to just win already." Would you like to see Schmidt and Cece reunited in 2013?
Watch 6 sneak peeks from tonight's episode "Cabin" below.