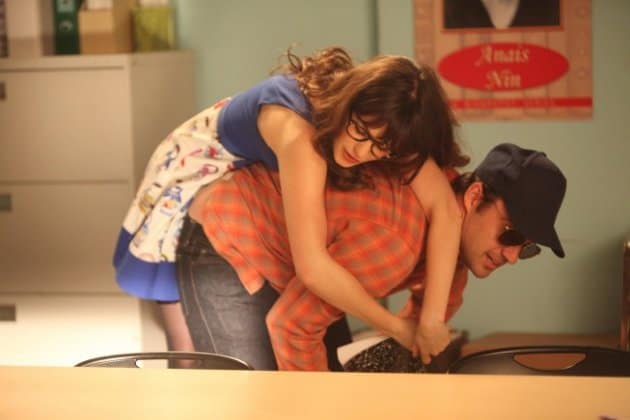 After last week's family heavy outing for Nick (Jake Johnson), tonight on New Girl he will be going undercover in Jess' (Zooey Deschanel) creative writing class to spy on a potentially dangerous student. Meanwhile back at the loft there is an examination of Winston (Lamorne Morris) and Schmidt's (Max Greenfield) peculiarities.
One of Jess' students Edgar (guest star Nate Corddry), is showing some odd signs of behavior and he could be dangerous. Nick takes it upon himself to go undercover in the class as Julius Pepperwood and find out whether Jess should be worried. From the promo photos it looks like we can expect some Nick and Jess hijinks and there have been several stories recently that have put an emphasis on this pairing. There's no denying how strong their chemistry is and it's good to see that they aren't fighting it this year in terms of story structure. Most episodes feature at least one Nick and Jess heart to heart and recently it feels like they have stepped up a notch; from Nick getting dumped at the cabin to his speech about being broken last week these moments have felt important in the relationship between these two.
Nick is not the only character trying to figure out who he is – it's something that they all share – though Nick is the one who is the least happy with his position in life and the one who still doesn't know what he really wants to do. This is why this has been the season of Nick in a way; even though he still doesn't know what he wants to be, he is taking steps to get where this might be. It could easily be said each week that Jake Johnson is magnificent (in fact if you check my Twitter, I do) with what they are giving him to do and this has a lot to do with the writers knowing what the characters strengths are. This undercover role looks like it could be just the thing that Johnson excels at doing with his performance as Nick Miller.
Shenanigans will be occurring beyond Jess and Nick's 'To Catch a Killer' plot and from the brief moment of Schmidt in the promo below, it looks like things are going to get weird in the best possible way. This will all start with Winston having an embarrassing encounter with Cece (Hannah Simone); what could that be?
Watch a promo for tonight's episode "Pepperwood" below.
http://www.youtube.com/watch?v=N2gk5Z29a_c&version=3&hl=en_US