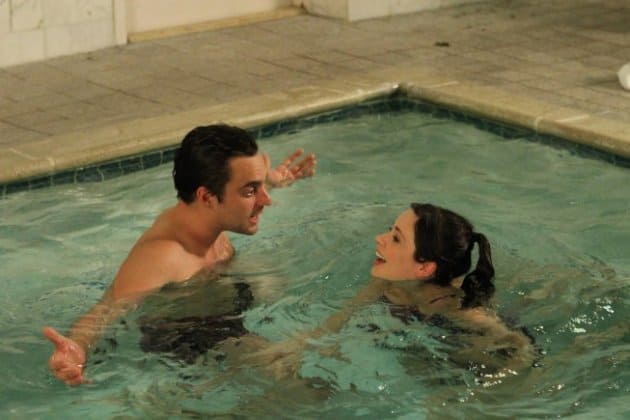 Things are a little bit strained tonight on New Girl as Jess (Zooey Deschanel) is still looking for a permanent job, Nick (Jake Johnson) confronts his anger issues and Winston (Lamorne Morris) thinks he is experiencing sympathy PMS. Meanwhile, Schmidt (Max Greenfield) embarks on some topical extracurricular activities with his regional boss (guest star Carla Gugino).
Jess still hasn't found a full-time job and it's becoming a financial issue as she now doesn't have enough money to pay the bills. This means that Jess has to step up her search for a job and decide whether teaching is still the career that she wants. Jess' emotions are amplified thanks to her PMS and this leads to very different reactions when Schmidt tries to give her some tough love and during a job interview. This is further amplified by Winston, who believes that he is now suffering from sympathy PMS and he's even checked on the internet to see if it is a real thing (he thinks it is).
One person who is less than sympathetic is Nick and as you can see in one of the sneak peeks below he gets into it with Jess when he calls her a 'ninny.' As we have seen in past episodes Nick and Jess do have this sparring relationship, but does Nick take it too far sometimes? Nick thinks he does and realizes that he has an anger problem and he finds an unlikely and hands-on source to relieve this issue. Nick has been doing a lot of soul searching of late and Jake Johnson has been exceptionally funny this season. This has been with both his storylines that involve the general group and the ones that involve heartfelt conversations with Jess. While they aren't pushing Nick and Jess together as a couple at this point, there is clearly a connection and chemistry between them and some of the promo photos above should make fans of this pairing happy.
At work Schmidt is entering into a 50 Shades of Grey type relationship with his regional manager, though it's really a reverse of the popular book as Schmidt is the one being dominated. No matter what your feelings are on this book, it's definitely the kind of story that should produce some excellent Schmidt moments and he isn't sure whether he should engage in this kind of activity. We have seen him engage romantically with his boss before and it didn't end so well when he was tackled by security in his work parking garage; will it go any better for him this time? This is a recurring role for Carla Gugino's and she should be a formidable opponent for Schmidt.
New Girl's strongest episodes tend to be the ones that tackle the relationships between the group and so tonight looks like it could be a fun exploration of the characters when they are at their most extreme. When certain aspects of their lives are confronted such as mortality (in season one's "Injured") or the rules of male/female friendships (in the recent episode "Fluffer") it is when the show has the most to say. The more absurd plots also result in excellent material, but the core of New Girl and why it resonates with viewers is the relationships between the five friends.
Watch five sneak peeks from tonight's episode "Menzies" below. For all the latest news, spoilers and photos check out our New Girl page.