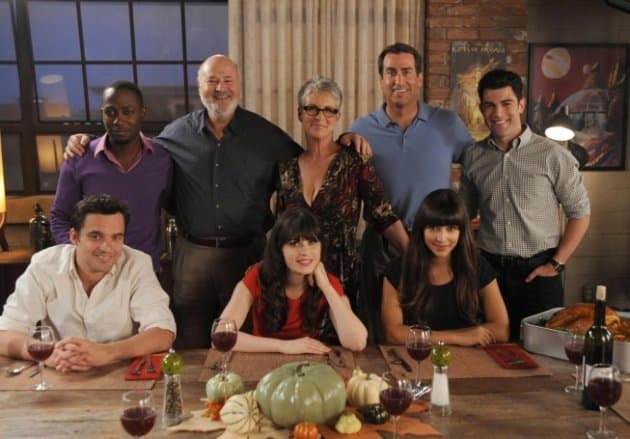 It's Thanksgiving tonight on New Girl and it's a family affair with both Jess's parents and Schmidt's cousin, Big Schmidt (Rob Riggle) coming over to celebrate. It wouldn't be a Thanksgiving TV episode without some conflict and Jess' divorced parents and Schmidt's competitive cousin should provide plenty of it.
Guest stars Jamie Lee Curtis and Rob Reiner are playing Jess' parents and they have a hard time being in the same room as each other, despite Jess' constant attempts of pulling a 'Parent Trap' on them. This year Jess enlists Nick (Jake Johnson) and Cece (Hannah Simone) to help, but it all gets a bit muddled when Nick starts to flirt with Jess' mom Joan and thinks that he has fallen for her. Or is this all part of Jess' master plan to make her dad jealous? Joan is very much like Jess in her approach to life, the one major difference is that she has an antagonistic relationship with Cece that goes back years.
What about Jess' dad Bob? Well Bob is the opposite of Jess and as you can see from one of the sneak peeks below Bob is very similar to Nick, making things even more awkward.
Some people watch the game while they wait for their Thanksgiving dinner, but Winston has a better way to entertain himself; messing with Schmidt. Winston manages to manipulate Schmidt and Big Schmidt into an escalating battle to prove their manhood. If you want to see Schmidt playing the part of a wheelbarrow while shirtless, then you're in for a treat.
Last year's New Girl Thanksgiving was a series of obstacles that prevented the gang from eating their turkey and it looks like they are in danger of repeating this mistake (hopefully there will be no dead people this year). Holiday themed episodes are always some of my favorites and from the bumper amount of clips that Fox has released this one looks like it's going to be hilarious. New Girl has become rather excellent at hitting those emotional cues amongst the jokes; last week's water massage scenes followed by Nick getting to the root of Jess' confidence issues is a good example of this. I'm also looking forward to meeting more family members of the group, leaving Nick as the last person with someone from his family to appear.
Watch 7 clips from tonight's episode "Thanksgiving 2" and the cast reveals their Thanksgiving favourites in the videos below.
http://www.youtube.com/watch?v=bm59PGd_M60&version=3&hl=en_GB