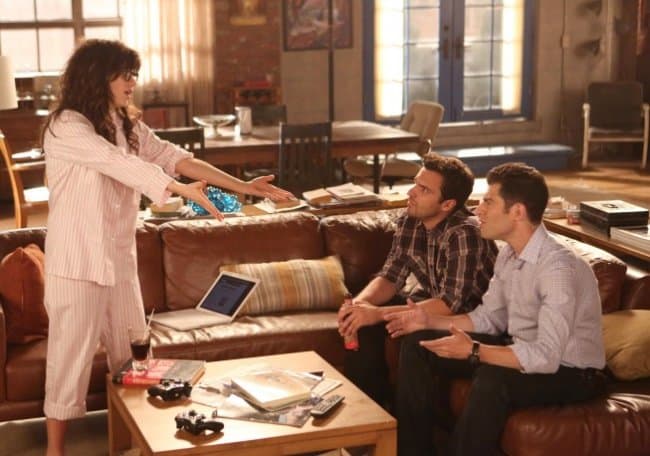 It's time to figure out the rules to True American as New Girl returns tonight for a two-episode extravaganza. A lot has changed since Jess (Zooey Deschanel) moved into the loft a year ago and the word 'adorkable' entered the pop culture dictionary. Spoilers ahead.
New Girl launched as a show about the Girl and the other characters served Jess' storylines, but as the season progressed and the characters developed it became more about the group rather than one individual. This isn't to say that some of the earlier episodes aren't good (the chicken dance from episode 3 is still one of my favorite moments), but it became consistently funny as the year progressed. The writing is sharper, quicker and they managed to have a cancer scare episode that was both incredibly touching and humorous at the same time. I am happy to say that season 2 gets off to a strong start; the jokes come quick and fast, Schmidt (Max Greenfield) still pronounces words in interesting ways and there's dancing, lots of dancing.
Here are five teasers from the tonight's two episodes:
Jess Will Not be Broken. In the pilot Jess discovered that her boyfriend had cheated on her and then spent days watching Dirty Dancing and crying, but don't expect the news that she has lost her job to have the same effect. Jess is trying to look at this situation in a positive light and when it does like Jess might succumb to the tears, one of the guys opts for an unusual method to cheer Jess up.
Re-Branding. No, New Girl isn't getting a different title, but Schmidt wants the world to know that he is a new man now that his penis cast is off (or oorff is you're talking like Schmidt). Schmidt isn't the only one who is looking for change as Jess' lack of job is giving her an identity crisis, not only does she not know what she can be if she isn't a teacher but she also pretends to be someone else in the second of tonight's episodes. This leads to a wonderfully farcical situation in the men's bathroom at Nick's (Jake Johnson) bar.
New Love Interests. Schmidt and Cece (Hannah Simone) broke up in the season 1 finale and the pair have been out of contact since then; their first post break-up meeting happens at Schmidt's party and is made all the more awkward by the presence of Cece's new boyfriend. Schmidt has his eye on another woman as we get to meet Winston's (Lamorne Morris) sister (does he not know the rules about dating friend's sisters?) and he will be showing off his sports skills (or lack of) to impress.  In the second of tonight's instalments Jess will attempt to juggle the attention of several different guys (including guest stars Josh Gad and David Walton).
Singing and Dancing. Last season's finale ended with a the roommates dancing happily to AC/DC's "You Shook Me All Night Long" and both new episodes feature some interesting dance moves. You will see why Nick's dancing persona is called "Cricket" (this is in the sneak peeks below), how Jess uses her jazz/tap skills as a shot girl and why Nick doesn't like making fruity drinks for Winston. There are also two different (and entertaining) versions of Deee Lite's "Groove is in the Heart."
Nick and Jess. Fans of this will they/won't they coupling will be happy to know that there are at least 3 moments in the season premiere that will have them squeeing with joy and the chemistry that made them the pair to root for is on fire. While the second episode spends more time with Jess and her new love interests, I think fans will be mostly happy with a scene that involves Don Draper's drink of choice.
There are new complications this season and with Jess losing her job it opens up a wide range of storyline possibilities; this will prompt Jess to explore what she wants to do with her life and whether teaching is really her dream profession. New Girl captures the feelings of not having it all figured out by the time you're 30 with jokes aplenty and like many sitcoms before it there is a family like bond between the friendship group. Season 2 begins with confidence and even though there is a comfortable familiarity with these characters, they are still evolving. Yes there are still kinks to figure out, particularly with how Cece will fit into the group now after her break up with Schmidt and she is barely used in these opening episodes, but overall this is a really positive and hilarious start to Fox's new Tuesday night comedy block.
What would you like to see happen in season 2 of New Girl?
New Girl returns tonight to Fox at 8/7c and 9/8c. Watch three sneak peeks for the second episode below and for more videos from both episodes head here and here. If you've forgotten anything that happened last season, then we've put together a handy what happened/what's coming next guide here.