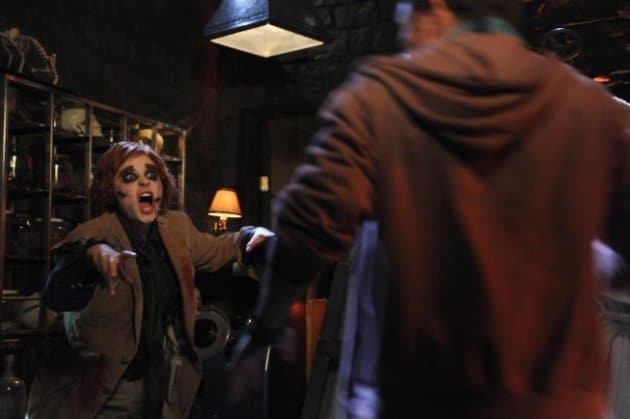 It's Halloween tonight on New Girl and Jess (Zooey Deschanel) lands a spooky themed job as a zombie in a haunted house. There will be scares aplenty; some related to current romantic entanglements and others thanks to the group outing to the haunted house. Spoilers ahead.
When Sam (David Walton) leaves his wallet with Jess this leads to Jess discovering that Sam is a pediatrician and Sam tries to play down his doctor status. Jess claims that this new information won't change her feelings for him, but is Jess going to fall for Sam in a big way? Jess has a hard time keeping it casually and this is her first relationship of this kind and it doesn't look like Sam is the kind of guy who will want to settle down soon. Is Halloween going to become a broken-hearted nightmare?
Last week focused on friendship and tonight's episode is catching up on matters of the heart. Winston (Lamorne Morris) and Shelby (Kali Hawk) have hit a rough patch and this will continue as they're costumes are worlds apart. A small detail perhaps, but also one that could be exposing their rocky relationship. Schmidt (Max Greenfield) and Cece (Hannah Simone) have the opposite problem as their costumes are accidentally matched. A point that is not lost on Cece's boyfriend Robby (Nelson Franklin), though Robby doesn't react to Schmidt's constant digs about his costume.
Nick (Jake Johnson) gets a visit from a former college crush Amelia (Maria Thayer) and this takes a scary turn when Nick sees what her kissing technique is like. Nick does admit that Jess' zombie costume is kind of hot though and they all show off their zombie Woody Allen impressions in the sneak peeks below.
So will New Girl's Halloween be more trick than treat?
For all the latest news, spoilers and photos check out our New Girl page.