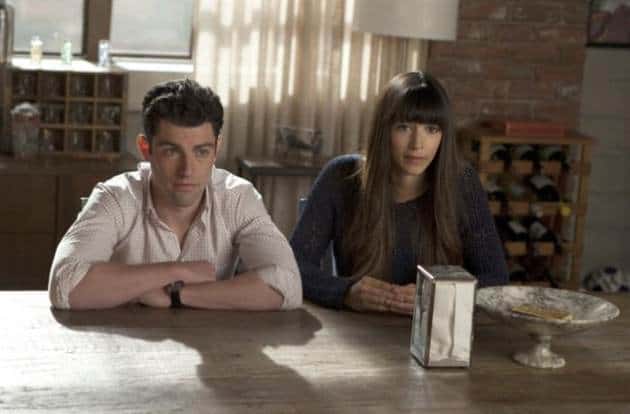 It is surprising to realize that one of the longest romantic relationships on this season of New Girl is between Schmidt (Max Greenfield) and Cece (Hannah Simone). Last week Winston (Lamorne Morris) found out about their secret hook-ups thanks to a badly timed trip in Schmidt's car (or manbulance). Now that Winston knows it is only a matter of time before the rest of the gang does too and tonight's episode "Secrets" will be dealing with the fallout. Spoilers ahead.
As you can see from the sneak peeks below Winston can't keep a secret this big to himself, especially when the idea of Schmidt and Cece having sex makes him declare that "It's like up is down." Winston decides to tell the one person who is horrible at keeping secrets and that is Nick (Jake Johnson) and this is where the big reveal occurs. Jess (Zooey Deschanel) reacts unfavorably as Cece has been lying to her for so long. Hannah Simone told E!Online that "It's the first time you see the friendship go through a bit of a complicated situation." What does this mean for Schmidt and Cece now that everyone knows? Can they make it work as a couple or will the spark go now that they don't have to sneak around?
Nick is having dating problems of his own that stem from last week's realization that he can be successful with college age women and now he is juggling several at once. 30 Rock's Katrina Bowden is guest starring as one of Nick's recent flings, but he is having difficulty with how to juggle multiple dates. Nick somewhat reluctantly turns to Schmidt to get some advice on how to behave in this situation which leads to some rather interesting role play.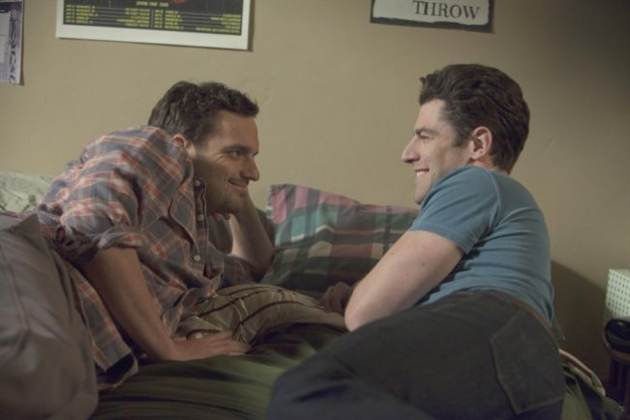 Jess as a result of this big secret decides that she wants full transparency between the roommates, something she is quick to regret when she finds out that the guys have thought about her while "self-completing." There are some cans you don't want to open and they definitely ruin Jess' idea in a quick and hilarious manner.
New Girl continues to get stronger each week and this is in part thanks to the toning down of the kooky side of Jess; that awkwardness is still there but it feels more organic now. The relationships between Jess and the guys have developed naturally after a bumpy start and each of them has quirks that make them just as odd as Jess at times. I've liked this show from the start but it has evolved into something really wonderful over the past few months and a big factor is the group dynamic. New Girl is one of the current batch of shows that is exploring relationships of those in their late 20s/early 30s; where children and marriage aren't such a near prospect and career security isn't necessarily defined by this age. It is through their relationships with each other and how they are navigating this uncertainty that makes New Girl a highlight of this year's batch of freshman offerings.
Watch a teaser and 4 sneak peeks below for tonight's episode "Secrets"