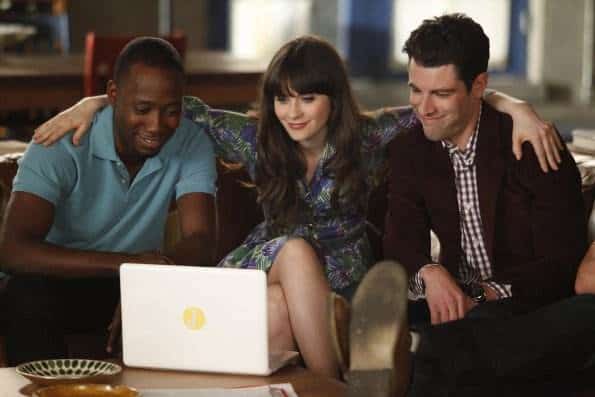 New Girl has really hit its stride and the past few episodes have ironed out many of the early problematic kinks that mainly concerned Jess (Zooey Deschanel) and how kooky they wanted to make her character. At the start of the season Jess had problems saying the word 'penis' and last week she embarked on having a one-night stand; that's definitely some character progression there. In "Valentine's Day" Jess also contemplated hooking up with Schmidt (Max Greenfield) but stopped when Nick (Jake Johnson) walked in on her and her giant box of condoms outside Schmidt's door. If she had entered Schmidt's room she would have discovered that he was not alone…
Yep that's right, Schmidt finally hooked up with Cece (Hannah Simone) after his many failed attempts to impress; so what does this mean for them now? Cece appears to be determined to keep the whole thing secret, sneaking out of the apartment so no one sees her. Schmidt has something about him that is drawing Cece to him, even if he does say things such as "You were like a canoe on my body river." The sex is clearly amazing but Cece is also ashamed of this dalliance and it doesn't look like this will turn into a boyfriend/girlfriend situation soon. We will get to see Schmidt in his tiny kimono once again, which is always a treat and Max Greenfield as Schmidt is definitely New Girl's scene stealer. Regardless of what direction the show is going to take these two in they really do have terrific chemistry, particularly when they are bickering and trying to outdo the other.
We will get to see how Jess behaves as a teacher with the serious task of handling a class bully. Like most things in life Jess thinks that this can be solved with a song but the guys are not convinced that this is the best course of action. It looks like they might be correct with this assumption as Jess finds herself the target of the classroom bully Brianna (Joey King). Will Jess turn tough and realize that sometimes you need more than a song to solve a problem? This also means that we will be seeing the wonderful Rachael Harris (The Hangover, Diary of a Wimpy Kid) who will be reprising her role of Tanya, the vice-principal at Jess' school.
Meanwhile Nick receives a cactus from Julia (Lizzy Caplan) and he reads this as a sign that Julia wants to break up with him. Nick is determined to save his relationship and I really hope he succeeds as Lizzy Caplan has been a good guest star addition and I'm not quite ready for this arc to end (I've also just binge watched Party Down over the last few days so would like some more Caplan screen time).
What do you think about the Schmidt/Cece coupling? Is Jess going to become tougher after her bullying experience? Let us know your thoughts in the comments below.
Watch a preview and 5 sneak peeks for tonight's episode "Bully" below.