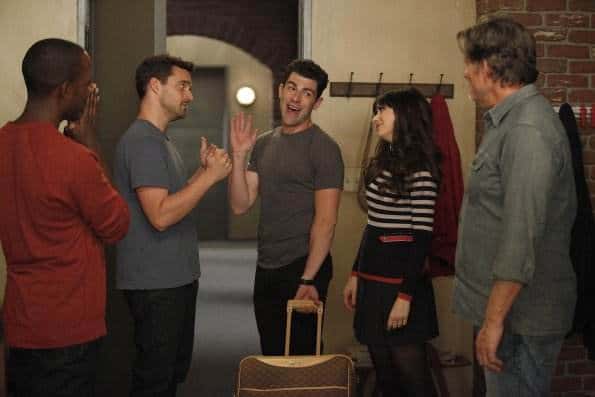 Last week's episode of New Girl went a bit meta and explored Jess (Zooey Deschanel) and the adorkable factor that entices and enrages. The whole argument was neatly handled with Julia (Lizzy Caplan) taking on the role of the dissenters and while it is unlikely to change the minds of those who find Jess (and Deschanel) to be on the wrong side of whimsy; it was a strong outing from the show, which seems to have found balance with Jess' character. It was probably my favourite Jess plot that New Girl has delivered so far so this week has a lot to compete with, but it looks like a farcical story with the landlord could be just the trick.
Jess wants their landlord (guest star Jeff Kober, Sons of Anarchy) to like her and makes it her mission to do so; this involves baked goods of course. Nick (Jake Johnson) doesn't want Jess to pursue this, but she does so anyway. Nick has a very good reason to want Jess to stay away from the landlord as they have made some 'unofficial' changes to the apartment that the landlord is not aware of. As you can see from the first sneak peek when the landlord knocks the guys go into a tailspin and start throwing things out of the window; this includes a mattress and some chinos.
Jess of course wants to right the wrong that she has done and this is where events turn into shenanigans as Jess sets out to prove to Nick that people are good, while he believes that 'people are the worst.' Nick is trying to prove to Jess that the landlord only wants to help them out because he wants to sleep with her, and he demonstrates this by showing Jess the sports film move that the landlord pulled on her. Things might go a bit far in this debate as you can see from the sneak peeks, as they appear to be heading towards a threesome (yep you read that right). This looks like it will be a good episode for Nick/Jess fans as they continue to show that they have really good chemistry through their bantering ways.
It also looks like a good Schmidt (Max Greenfield) episode (though really aren't they all?) as he tries to figure out whether his boss Kim (Gillian Vigman) is into him. The problem here is that Schmidt thinks that everyone is into him and can take the most innocent of comments and turn them into something completely different. Schmidt turns to Cece (Hannah Simone) for advice who tells him to go for it if he wants it; is she hinting at what she really wants from Schmidt?
Watch four sneak peeks, a preview and a promo below.
To find out how you can create your own New Girl music video head here.