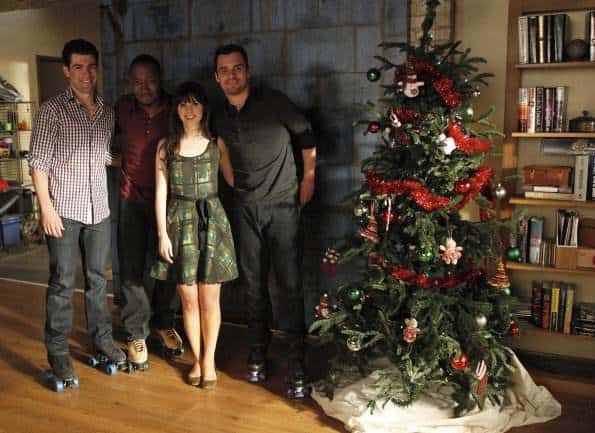 New Girl celebrates Christmas tonight and the pressure of buying a gift for new boyfriend Paul (Justin Long) leaves Jess (Zooey Deschanel) with a relationship dilemma that spirals out of control. The gang also head to Schmidt's (Max Greenfield) holiday office party where they get to witness Schmidt's festive costume.
It didn't seem like there would be much life left in the Jess/Paul relationship with the news that Ryan Kwanten would be guest starring in the Valentine's Day episode, even after the happy resolution to last week's "Bad in Bed" episode. In the sneak peeks below you can see the really awkward gift giving scene which shows a major disparity between the sizes of the gifts given, which then turns into an even more awkward declaration of love. This of course is a slippery slope to breaking up and is further fuelled by Nick (Jake Johnson). Nick isn't trying to sabotage the pair but his attempts at helping really do the opposite of that.
At Schmidt's office party as he is the only male he gets to dress as the office Santa. This isn't a regular Santa costume but instead is a 'sexy Santa.' Schmidt tells the guys that he likes being Santa, as when his co-workers are drunk they tell him things that he can use to subtly undermine them with for the rest of the year. At the party however it is clear to Cece (Hannah Simone) that he doesn't really love this objectified role and the two have a potential moment. Is something going to happen between the pair or will Cece forever be the woman that Schmidt can't get? The evolution of their relationship has been fun to watch and Schmidt is definitely one of the best new characters on television this year and this episode looks like it will be showcasing this.
Winston (Lamorne Morris) meanwhile might score himself a new job at the event, not as an office employee but as a possible nanny for Schmidt's boss who is impressed with how he has entertained her son at the party. Winston is not so happy with Nick after he receives a rather small gift from his roommate. The presents that Jess gives the guys, that you can see in one of the sneak peeks below (and the promo photo above) should provide plenty of laughs though.
New Girl received an early Christmas present last week with a Writers Guild Award nomination for best New Series and the show is a likely contender in the comedy categories for the Golden Globes. The nominations for the Golden Globes will be announced this Thursday (December 15).
Watch a preview and 4 sneak peeks for tonight's episode of New Girl below.