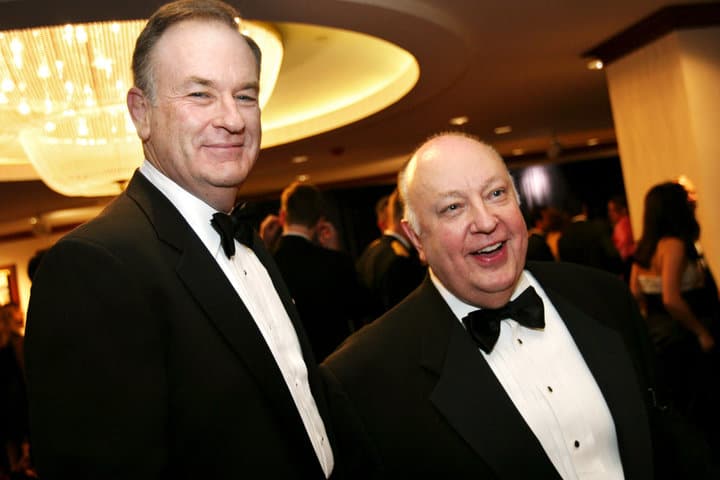 The death of Roger Ailes has been a very touchy and popular topic as of late.  I hadn't mentioned anything because I really didn't feel like bringing up a man who when you get down to it, was NOT a good man.  I don't care how much he grew the Fox News network or how many jobs he created, the guy was a sexual predator and mistreated women like no other executive ever has in the history of television.   It doesn't matter how much good you do in the world.  You could be the world's largest philanthropist but if you like molesting children, it sure as hell doesn't justify your actions.  But Bill O'Reilly seems to think otherwise.
In a USA Today op-ed piece posted Thursday evening, O'Reilly blamed America's technology-spawned "hatred" for his demise.
"We are living in a rough age, with technological advances changing behavior and perspective," O'Reilly wrote. "The downside of that is turning us into a nation where hatred is almost celebrated in some quarters. Roger Ailes experienced that hatred and it killed him. That is the truth."
O'Reilly, who like Ailes, left Fox News amid a wave of sexual misconduct allegations, wrote that his former boss was victimized by a rush to judgment. "Roger was convicted of bad behavior in the court of public opinion, and it was painful for many of us to watch. He, himself, was stunned and never really recovered."
I'm sorry but this is like saying Padme died of "heart break" in Revenge of the Sith.  No, she died of complications from birth.  If you want to really blame something on Ailes' death there's one thing I'll give you Bill: pressure did get to Ailes.  But was it the pressure of the media or the fact that the media brought to light what a sick individual he was?  Is it possible this guy regretted what he did and that stress of it all ultimately led to his demise?  That's something I can believe.
Screw you Bill.   You too are a vile human being who degrades women and you have the gall to bring up hatred as if you really believe that's "plaguing" us?  You yourself are a humongous part of said hatred.
Save