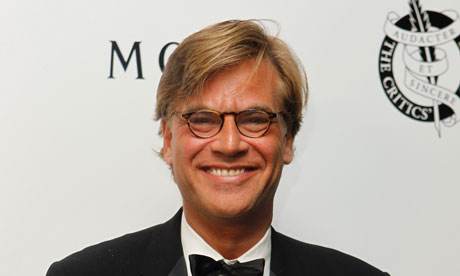 TVNewser is reporting that HBO's upcoming cable news drama from Aaron Sorkin has been given a new name. Formerly titled More as The Story Develops, the show will now be known as Newsroom when it debuts sometime next year. In September, the show was picked up for a 10 episode first season.
Newsroom follows the production of "News Night", a show on the fictional UBS Network anchored by popular talking head Will McAllister (Jeff Daniels). Newsroom will also be featuring the team that makes "News Night" what it is, including producers (Emily Mortimer) and staff (Allison Pill, Dev Patel, Olivia Munn, etc.). Additional members of the cast include John Gallagher, Jr. and Thomas Sadoski as two members of the staff and Sam Waterston as the boss.
Aaron Sorkin is best known to TV fans as the man behind another political drama, NBC's The West Wing, though he's also responsible for cult favorite Sports Night and one-season disappointment Studio 60 on the Sunset Strip. The latter took a look at the behind-the-scenes drama of a sketch comedy show before being canceled in 2007. Sorkin recently wrote the Brad Pitt movie Moneyball, a year after winning an Oscar for penning The Social Network, and will next be penning the big screen adaptation of Sondheim's Follies.
If you're excited for the prospect of cable-style walk-and-talk, TVNewser had a look at the pilot script and points out a few ripped-from-the-headlines aspects that will be familiar to any news follower. Newsroom will be the second big drama debut of the new year for HBO, as the network will be unveiling the latest creation from David Milch (Deadwood), horse racing drama Luck, this January.
How do you think the return of Aaron Sorkin to television will go? Does the impressive cast make you more excited to see the show? Will you be watching Newsroom when it premieres next year?