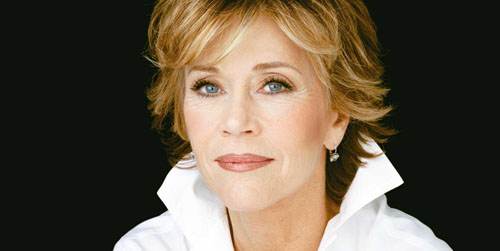 TV Line is reporting that Aaron Sorkin's upcoming HBO drama Newsroom may have just landed its biggest get yet. After expressing a desire to head to cable thanks to its edgy writing, Jane Fonda (Coming Home) will be joining the backstage look at cable news program "News Night" as Leona Lansing, ruthless CEO of the show's parent company. We'll learn more about her character the closer it gets to Newsroom's debut, which is currently to be determined.
It'll be two-time Oscar winner Fonda's first TV appearance since 1984's The Dollmaker (a TV movie) and first series appearance since 1982's Nine to Five. Fonda retired from the cinema in 1991 after a highly successful 30 year career before returning to acting in 2005. She eventually earned a Tony nomination in 2009 while penning a second memoir and releasing another exercise video since that time. Fonda most recently appeared in this year's Peace, Love, & Misunderstanding with Jeffrey Dean Morgan (Watchmen) and Elizabeth Olsen (Martha Marcy May Marlene).
Fonda joins a pretty remarkable cast for fellow Oscar winner Aaron Sorkin's return to TV, as Newsroom includes the likes of Jeff Daniels (The Squid and the Whale), Alison Pill (Milk), Dev Patel (Slumdog Millionaire), Emily Mortimer (Lars and the Real Girl), and Sam Waterston (Law & Order). However, her status is currently as "recurring", so she may not appear in every installment of the show's 10 episode first season. Finally, and perhaps more importantly, she adds another prestigious name to the list of post-40 actresses currently enjoying plum roles on TV, including fellow Oscar winner (and 2012 SAG nominee) Jessica Lange, Laura Dern, Laura Linney, Dana Delany, Mary-Louise Parker, Kathy Bates, and Glenn Close, among others.
How do you think Fonda will do on A) TV and B) a cable show? Does her casting make you look forward to Newsroom more? When do you think the show should make its debut?