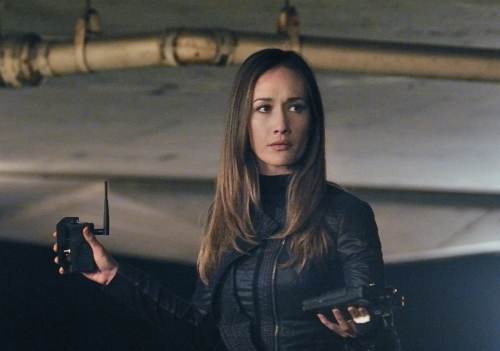 Tonight's episode of Nikita is awesome. In fact, this season of Nikita has been pretty stellar overall, weaving complex emotions with non-stop action. This show started getting amazing as its first season progressed, but season 2 is shaping up to be even better, in my humble opinion. I've screened tonight's new episode, titled "Fair Trade", and have a few spoilers to share with you about what you'll see in the episode:
Nikita's on a mission. Technically, she's been on a mission forever, but our heroine is really stepping up her game in tonight's episode. She decides to steal funds from Oversight in order to draw out Senator Pierce and the other Oversight bigwigs. Naturally, Birkoff is concerned that she's biting off more than she can chew. But Nikita assures him all she wants to do is observe a meeting between the remaining Oversight overlords to figure out their identities. And that's all she does, until the whole plan goes up in smoke because Sean is starting to get a lot more paranoid about the possibility of Nikita killing his mother.
Birkoff feels the wrath of Amanda. Once Sean realizes that Nikita is in the building where the Oversight meeting is taking place, chaos ensues. In the middle of that chaos, Birkoff gets captured by Division. He's brought in to see Amanda, who takes great pleasure (as she always does) in torturing him to get information. She's particularly creative with torture techniques in this episode when she uses a new medical tool to try and pierce his brain. Melinda Clarke is scary as Amanda, isn't she? The woman is brilliant.
Sean is getting desperate. Tonight, Sean is all about protecting his mother from Nikita and it's becoming clear to Amanda and Senator Pierce that he will not have Division or Oversight's interests at heart if that means putting his mother in danger.
Nikita + Birkoff = BFFs. A lot of season 2 has been focused on the relationship between Nikita and Michael. That's fine, of course, but now that Michael and Nikita are "taking a break" (more on that soon), other relationships have a chance to shine. In particular, the friendship between Nikita and Birkoff takes center stage when Birkoff is captured by Division. Nikita is completely despondent about the possibility of losing her nerdy friend and Maggie Q. shines in a particular scene where she breaks down about the whole situation. These two characters have a genuine friendship and respect for each other and it's never been more clear than in this episode.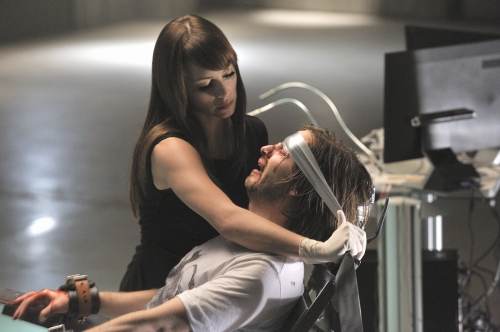 Mikita fans get a small treat. I know, Mikita fans, you're probably very upset by the fact that Nikita sort of broke up with Michael in the previous episode. The truth is, Michael has remained behind in London to hang out with his son and really doesn't appear for a lot of this episode. I will tell you, however, that you shouldn't despair. When Birkoff is captured, the first thing Nikita does is call Michael for help. And while he may be an ocean away, he is able to help soothe her fears and come up with a plan. I honestly don't think that this break up will last, because it's clear how much she still loves and needs Michael, and Michael knows it.
Alex implements her plan for revenge. Tonight, Alex takes the first real steps in her plan to take down Semak. But her enemies are so powerful in Russia that she can't just waltz into the country and target them. Instead, she finds a clever and undercover way to get back to her homeland and it involves getting involved in the sex trade once again. The big question, however, is whether she can really count on Sean to have her back while she puts her plan in motion. You'll see what I mean.
We're heading for something big. With Alex in Russia and about to take the first step in killing Semak and Nikita heading off to reunite with an old friend, the ending of the episode signals that something big is just around the corner. With Owen appearing in the December 2 midseason finale and Alex making her first move to take down those responsible for killing her family, tonight's episode perfectly leads into what's sure to be an explosive finale in two weeks.
Watch a trailer and sneak peek for tonight's episode below, and don't miss a new Nikita tonight on The CW.