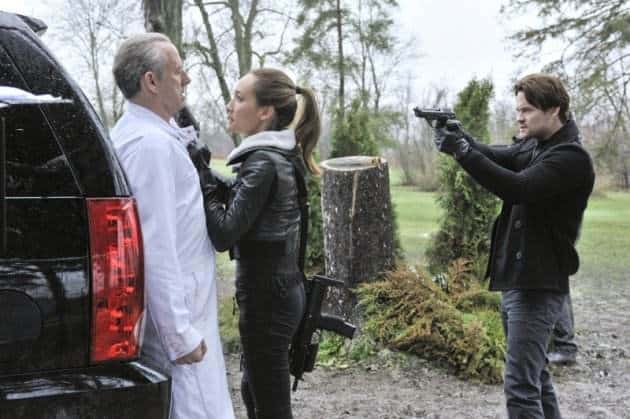 Forget Nikita versus Division, the real – and nearly deadly – rivalry on Nikita is Amanda versus Percy. Amanda managed to shoulder her way into the top position at the beginning of season 2 by taking over Division and locking up Percy in a Silence-of-the-Lambs-type cell.
All along, however, Percy has been manipulating events even while trapped in his prison beneath Division. In the last episode of Nikita, he managed to instruct his Guardians to take Oversight hostage, thus putting them, and Amanda, in a quandary: do they agree to let Percy escape from his cell or sacrifice their own lives, and the lives of everyone inside Division?
We recently spoke with both Melinda Clarke and Xander Berkeley, who teased this week's big showdown between their characters and hinted at their plans to come.
Percy's Escape from Division. Rest assured, Percy will definitely be making his way out of his cell and Division in this week's episode. Melinda teased that "we've been all wondering for the entire season how Percy is going to get himself out of that box. He succeeds – I can't tell you how exactly, but he definitely ends up outside of Division. It's a very difficult decision for Amanda, but it's wonderful. These storylines [to come] will be very exciting because Percy will be outside'. Percy, of course, will be pleased to finally escape, but the situation won't be without its problems, as Xander revealed: "It's a bumpy ride for us all. It doesn't go the way Percy had hoped it would, ultimately, but neither does it go the way Nikita hoped it would. We thwart one another and live to see another day."
Percy's Master Plan. Percy's initial goal, of course, is to reclaim Division. "It still irks Percy that it was taken away from him", Xander explained. But Percy is no longer content with just running Division. His plans are far more wide-reaching now. "There's a clue in the scene when Ryan is there in the cube with Percy", Xander explains. "When he says '˜I'm aiming at a higher place'. [He's aiming for] what would constitute heaven on earth for Percy, I suppose, which would be MOAR POW-AH! It's been hinted to me that that hint is what his ultimate aim is. That he wants to go beyond the U.S. and beyond Oversight and into what is really pulling the strings and calling the shots on a global arena." Expect the Guardians to continue to help Percy in his quest, Xander hinted: "They are the means by which he might be able to get out and about in the world and move with some protection. Patrick and Roan [and Percy]…the three of them will constitute a triumvirate of sorts and you will get to see that very soon." But first thing's first, Percy does need to reclaim Division before he can go global. "Even though Percy has a grander design, ultimately, in the short-run, he wants to use recovering Division as a means to get to greater global access."
Amanda's Plans. Percy might be aiming for global control, but Amanda's plans are far more subtle. Melinda said that "Amanda has her own plans. Percy's might be world domination. Percy probably needs to be in the spotlight, whereas Amanda would be happy to be the puppeteer from behind. I think it would fabulous if Percy and Amanda could get over their differences and come back together, but I don't think that would happen for a long time." Could these plans involve the person that Amanda called from a hidden cell phone in the previous episode? "Yes, in the next few episodes it will be revealed [who was on the phone]. She definitely has her own master plan and has been working behind the scenes with somebody for quite a long time. I'm excited about the storyline and I think the audience will be pleasantly surprised." Could the still-imprisoned Ryan factor into Amanda's plans? "Yes, my little pet", Melinda laughed. "We'll see some more Ryan for sure."
What Will Happen With Division and Oversight in the Near Future? Amanda will remain in control of Division, even when Percy gets out, Melinda confirmed, "but that future could definitely change. Oversight's future is pretty rocky right now. And the future of Division is very rocky. There's definitely going to be some big changes coming up."
Amanda and Percy's Relationship. For the last several episodes, it's been hinted that there was a deeper relationship between Amanda and Percy besides them being work colleagues. In the previous episode, Percy flat out confronted Amanda about it, telling her she was incapable of love. Naturally, we had to ask Melinda whether she thought that was true and what Amanda really thinks about Percy: "I think that they're just so angry with each other for what each other feels the other betrayed. Amanda really believed in this partnership that they had in running Division. And he broke that. So she's very, very angry about that. He's so angry to have been imprisoned by her that he's trying to hurt her in the only way he knows how. I don't necessarily think that it was a '˜love', like aphysical relationship. I think it was beyond that. They're such egomaniacs, it's bigger than that. But when he says '˜you're incapable of love', it's because he knows it's that one little spot that he can dig in the knife for her. And also it's more about regret. Now she's forced to put him into this coma and she doesn't want to." And what about that uncharacteristic mini-breakdown we saw from Amanda after Percy delivered that emotional blow? Well, the Ice Queen will be firmly back under control. "It's a rare moment that she can actually be swayed and Percy is the one person who can do that to her."
Will Nikita and Her Gang Continue to Bring Trouble to Amanda's Door? "Absolutely", Melinda confirmed. "Every episode. Nikita always gets in the way of Amanda's successes. In this episode that's coming up [on February 3], it's almost like they're kind of forced to help Amanda, because they're doing the right thing. It's almost like 'pick your battles. What's the lesser of two evils at this point?' So they end up, of course, always being intertwined in each other's lives."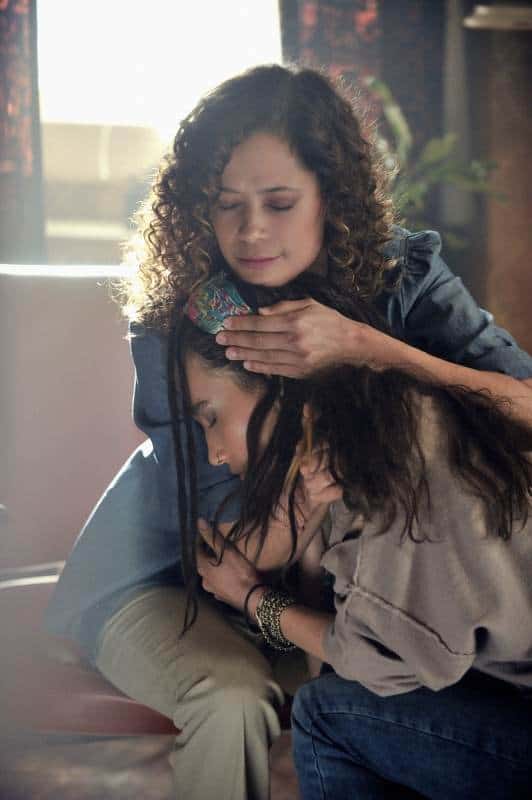 The Mysterious Carl and the History of Division. A little while ago, Nikita mentioned a woman named Carla to Alex, telling her that it was the disappearance of this kindly woman that caused Nikita's downward spiral that led to her imprisonment and being recruited by Division. Mentioning Carla was not a fluke and she will actually play a very important role going forward. "There's a new character being introduced for a while – Carla – and we see interesting dynamic that was there from the beginning with Amanda and me", Xander hinted. Melinda actually linked Carla with the history of Division itself, saying "Her storyline will help reveal how Division became Division. So obviously then Percy, Carla and Amanda are all linked. That's an exciting storyline and there will be a lot of flashbacks. We'll get to see the 1998 version of Amanda and her character is very fascinating. I've always said, whatever you see on screen, there's other things going on. All kinds of chess moves being made. I don't think anything's every really a coincidence on this show. That storyline will be very exciting."
Amanda's Control of Alex. In a recent episode featured Ryan sharing Percy's cell in order to gain more information from him about Division and Oversight, Percy said that Amanda's control over Alex is far from absolute: "Amanda's lost control of her girl." Of course, we had to ask Melinda whether Alex will be a loose cannon, especially now that she's reconnected with Nikita and her friends: "I think she's just being a very patient '˜mom'with her. She knows she needs Alex, for sure, because of Zetrov, but there's always a chance that Alex could pull away. But I feel like Alex needs Amanda too. They're definitely still kind of give-and-take in that relationship, but it could go either way at any time."
An all new episode of Nikita will air tonight at 8:00 p.m. EST on The CW. With Amanda and Percy facing off once again – and soon to be taking their rivalry to a larger stage than a cell beneath Division – we're certain we're in for some exciting episodes. Watch a trailer and sneak peek for tonight's episode below.