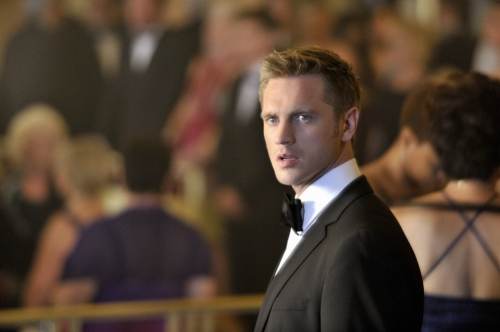 Well, I hope your wishlist for season 2 of Nikita included handsome men in tuxedos, because that's what you're going to get in episode 2.02, entitled "Falling Ash" and airing on Friday, September 30.
Devon Sawa will be making a return guest appearance as our favorite slightly unhinged former Division Guardian in this episode. Nikita and Michael will be investigating a former Division program named P9 when they run into Owen again. He's on the hunt for Dr. Joseph Mars (guest star John Ralston), who helped create and resurrect the P9 program, as well as created the Regimen. Owen hopes to find Dr. Mars to help wean himself off the drugs he's forced to take.
Michael, of course, doesn't trust Owen as far as he can throw him, but Nikita wants them to join forces. The trio heads to a swanky party – complete with the aforementioned swanky tuxes – in the episodes, and Alex seems to make an appearance as well. Speaking of Alex, Percy demands to see her in this episode.
To view photos from episode 2.02 of Nikita, click the arrows above. And brace yourself, because for the first time in the history of this show Nikita's hair doesn't look perfect in one scene. Toronto rain will do that to you.