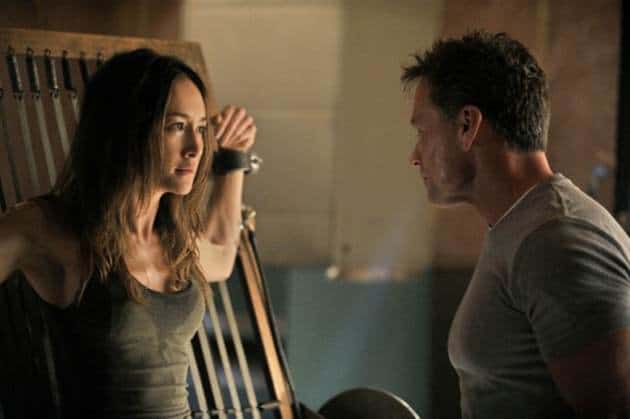 Anyone can appreciate the action-packed episodes of Nikita, but there's something to be said for the episodes that contain quiet and desperate introspection. Tonight's all new episode, titled "Wrath", is one that allows Maggie Q. to shine as Nikita tries to come to terms with the person that she is. At the beginning of the episode there's a sense of uncertainty. Alex has given up her claims to the Zetrov company and her mother is safely tucked away.
Amanda and Ari are on the run and Nikita admits that she thinks their mission is over. All that's left is for Madeline to deal the final blow to Division and Nikita and Michael can walk away with their presidential pardons. But the couple both feel uncertain about their future. After all, they've been fighting these enemies (together and separately) for so long, that it's hard to know what to do with themselves when the fighting is done.
Only the fighting isn't done.
Is Percy Going Nuclear? Percy has made a deal with a former arms dealer named Nicholas Brant (guest star Rick Ravanello, who does a great job with his role). He agrees to spring Brant from prison if Brant will supply him with plutonium. Percy with a nuclear bomb? This is worrisome. If you're been reading the episode synopses, you'll know this becomes important in an upcoming episode.
A Blast From Nikita's Past. It won't spoil you to know that Nikita and her motley crew soon realize that Percy has taken control of Division. But that's the least of their concerns right now, because Nikita soon realizes that Brant is free and reveals that she has a history with him. Back in her Division days, she infiltrated Brant's organization. Disgusted at the kind of man he was, she made sure to inflict retribution when she finally managed to bring him down. But now he's out for revenge and he sets his sights on kidnapping and torturing the woman who betrayed him.
Nikita Looks Within Herself…But Does She Like Who She Sees? Nikita's torture is a tough thing to watch, not only because she's in pain, but because her encounter with Brant forces her to look inside of herself and come to some harsh realizations. In fact, Nikita's tale in this episode is really a tale of morality. It's clear that she abhors the things she did while working for Division, but can we truly deny that some of the people she killed or hurt actually deserved it? As Percy says, there are monsters in this world.
Michael and Nikita Examine Their Relationship. As I mentioned, both Nikita and Michael feel uncertain for their future. Not because they don't love one another, but because it seems nearly incomprehensible to imagine a future that isn't filled with them running for their lives. And I don't want Mikita fans to worry, because there's so much amazing relationship stuff between the couple in this episode, even if they feel a bit shaky at points. In fact, Michael makes a choice at one point that brings the two of them to a confrontational level we rarely see in their relationship. As an admirer of their relationship, it seems odd to praise a scene like this, but it's so worth it. The performances of Maggie Q. and Shane West are nothing short of amazing.
No One is Safe. The safety felt in the first few moments of the episode are instantly shattered when someone we know dies in the first ten minutes. I won't even try to hint who it may be except to say that it also allows for another actor to reach satisfying emotional levels.
There aren't enough good things to be said about tonight's all new Nikita. The performances are stellar and even though the season arc doesn't necessarily progress, the episode feels like a necessary break from the action in order for the characters to re-center themselves so that they can focus on defeating Percy once again.
Don't miss an all new Nikita tonight at 8:00 p.m. ET/PT on The CW. Watch a trailer and producer's preview for the episode below.
Want a chance to win a cool Nikita branded gym bag? Click here for contest details.